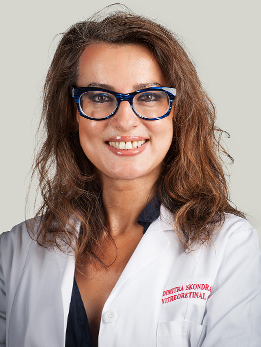 Associate Professor of Ophthalmology and Visual Science
Director, J. Terry Ernest Ocular Imaging Center
UChicago Faculty Physicians hold faculty positions with the University of Chicago and provide care for patients on the academic health system's main campus in Hyde Park and in care centers throughout the Chicago region.
Close
773-702-3937
Dr. Dimitra Skondra is a highly respected, board-certified retina specialist, with a particular focus on the medical and surgical treatment of vitreoretinal diseases. She in an expert in delivering care for diabetic eye disease, retinal detachment, age-related macular degeneration, retinal vein occlusions, eye trauma, proliferative vitreoretinopathy and intraocular infections, with advanced training and expertise in surgical repair of complex diabetic retinal detachments.
In addition to her clinical expertise, Dr. Skondra is an active researcher. As a physician-scientist, she is dedicated to investigating methods to improve treatment strategies for retinal conditions. Dr. Skondra is currently engaged in clinical and translational research in diabetes and other retinal diseases. Her research in retinal imaging aims to provide a better understanding of the pathogenesis, early detection and identification of prognostic information for to enable more targeted intervention and treatment. Dr. Skondra has been published in numerous peer-reviewed journals, presented her work in multiple national and international meetings, and serves as scientific reviewer for ophthalmology journals.
Throughout her career, Dr. Skondra has received several prestigious awards, including the Retina Society Raymond Margherio Award, Harvard /Alcon Clinical Scholar Award, AUPO Research Award, ARVO/Alcon Early Career Clinician Scientist Award, Joslin-Tonseth Research Fellowship Award and the Knights Templar Award.