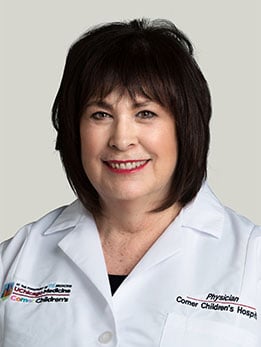 Pediatric Surgery, Surgery | More
Associate Professor of Surgery
UChicago Faculty Physicians hold faculty positions with the University of Chicago and provide care for patients on the academic health system's main campus in Hyde Park and in care centers throughout the Chicago region.
Close
773-702-6169
Deborah Loeff, MD, is a specialist in pediatric general surgery. She has particular expertise in the treatment of children with complex congenital anomalies, such as tracheoesophageal fistula and esophageal atresia, abdominal wall defects; gastrointestinal conditions, including inflammatory bowel disease and gastroesophageal reflux; pediatric cancer; and traumatic injuries. Dr. Loeff is highly skilled in minimally invasive surgery used to treat many conditions in the chest and abdomen. Because this surgical technique involves tiny instruments and smaller incisions, patients experience less pain, minimal scarring and a faster recovery. It is frequently the best choice for children. Dr. Loeff feels that successful care of a child with a surgical condition requires engaging parents in all aspects of evaluation and management.
As a member of the Level 1 pediatric trauma team at the University of Chicago Medicine Comer Children's Hospital, Dr. Loeff works with an interdisciplinary program dedicated to providing the optimal treatment for children who sustain injuries from trauma. In addition to providing medical care to these patients, Dr. Loeff works to identify strategies for prevention and advocates for improved systems of care.