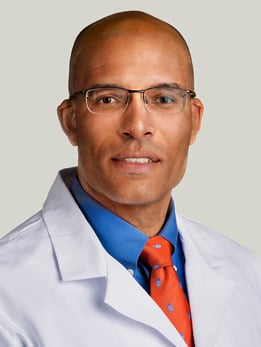 Trauma Surgery, Surgery | More
Assistant Professor of Surgery
UChicago Faculty Physicians hold faculty positions with the University of Chicago and provide care for patients on the academic health system's main campus in Hyde Park and in care centers throughout the Chicago region.
Close
773-834-2482
David Hampton, MD, is a general surgeon who specializes in trauma, acute care and surgical critical care. He is an avid educator and researcher. His interests involve trauma resuscitation, hemorrhagic shock and international surgical collaborations.
Dr. Hampton has received several awards and honors for his academic work, including the Donald D. Trunkey, MD Award for Ethics and Professionalism, the Raymond H. Alexander, MD Resident Paper Competition Award and the American Association for the Surgery of Trauma Fellow Scholarship. Aside from his academic accomplishments, he is also a distinguished U.S. Naval officer and holds the rank of Commander in the U.S. Naval Reserves.