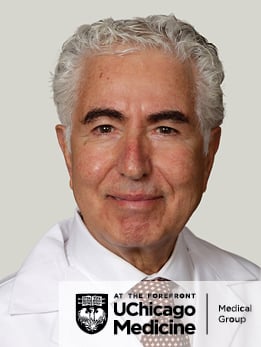 Family Medicine, Primary Care | More
UChicago Medicine Medical Group is comprised of UCM Care Network Medical Group, Inc. and Primary Healthcare Associates, S.C. UChicago Medicine Medical Group physicians are not employees or agents of The University of Chicago Medical Center, The University of Chicago or UChicago Medicine Ingalls Memorial.
Close
708-342-3000
Cyrus Akrami, MD, is a board-certified physician who specializes in both general medicine and pediatrics. As a primary care physician, Dr. Akrami is trained in all areas of medicine and can diagnose and treat the full range of problems that his patients may present. When necessary, he can call on the expertise of a specialist. Dr. Akrami cares for every member of the family, from newborns to seniors, and believes that a successful patient-doctor relationship is one that is based on mutual respect, honesty and open communication.
Dr. Akrami earned his medical degree from the University of Tabriz in Iran. He completed his internship at Youngstown Hospital in Ohio and his pediatrics residency at Hahnemann University Hospital in Philadelphia. Dr. Akrami also completed a fellowship in pediatric nephrology at Michael Reese Hospital in Chicago. Dr. Akrami speaks several languages, including Farsi, Spanish and Turkish.
UCM Medical Group physicians with privileges at the hospital are independent physicians. They are not employees or agents of the University of Chicago Medical Center or Ingalls Memorial.