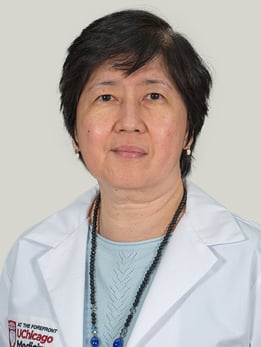 Professor of Neurology Director, Electrodiagnostic Laboratory for Neuromuscular Disease
Co-Director, Amyotrophic Lateral Sclerosis Clinic
UChicago Faculty Physicians hold faculty positions with the University of Chicago and provide care for patients on the academic health system's main campus in Hyde Park and in care centers throughout the Chicago region.
Close
773-702-6222
Betty Soliven, MD, is an expert in autoimmune disorders that affect the nervous system. Neurology patients with myasthenia, Guillain Barré syndrome, chronic inflammatory demyelinating polyneuropathy (CIDP), other inflammatory neuropathies, and myositis are seen at our Neuropathy and Neuromuscular Clinic. In addition, Dr. Soliven sees patients with myotonic disorders, mitochondrial diseases and muscular dystrophies. She also co-directs the University of Chicago ALS Multidisciplinary Clinic which provides a high quality team approach to the care of patients with various forms of motor neuron disease.
An active researcher, Dr. Soliven has been involved in several neuromuscular clinical trials. Her laboratory research focuses on immune mechanisms and demyelinating diseases of the nervous system. In addition to investigating glial biology, she is working on an animal model of chronic inflammatory demyelinating polyneuropathy.