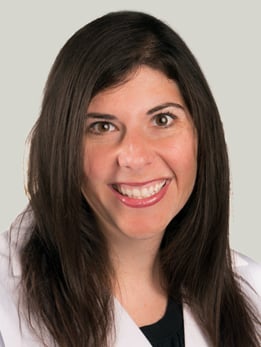 Dermatology, Pediatric Dermatology | More
Assistant Professor of Medicine
UChicago Faculty Physicians hold faculty positions with the University of Chicago and provide care for patients on the academic health system's main campus in Hyde Park and in care centers throughout the Chicago region.
Close
773-702-1611
Adena Rosenblatt, MD, PhD, is a pediatric dermatologist with expertise in the diagnosis and management of childhood skin diseases, including:
Inflammatory skin conditions, such as psoriasis and eczema
Vascular skin lesions
Pigmentary disorders
Birthmarks
Disorders of hair and nails
Infectious skin conditions
Cutaneous manifestations of internal diseases
Dr. Rosenblatt has a special interest in vascular skin lesions and is a member of the Vascular Anomalies Group at the University of Chicago. She also started a clinic offering outpatient dermatologic surgery and laser treatment for children, adolescents and teens.
As a physician-scientist, Dr. Rosenblatt brought clinical trials within the field of pediatric dermatology to the University of Chicago. She has a particular interest in quality improvement and ensuring patient access to healthcare. She is exploring innovative ways to use information technology and teledermatology to enhance patient care. Additionally, Dr. Rosenblatt is an educator and is dedicated to teaching students, primary care physicians her patients, and their families about childhood skin conditions.
UChicago Faculty Physicians who provide services at UChicago Medicine Ingalls Memorial are not employees or agents of UChicago Medicine Ingalls Memorial.