Skip to content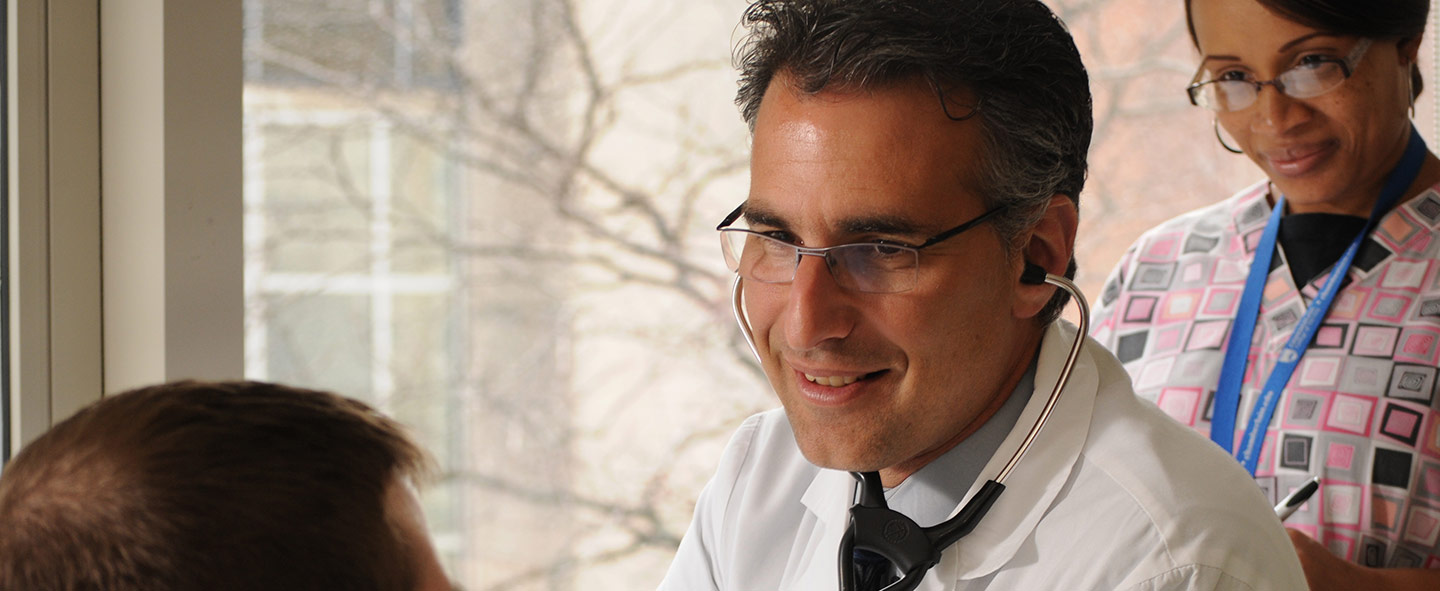 The Forefront of Crohn's Disease Treatment
World-renowned experts bring the latest innovations and research together to provide the best possible treatment.
Request an Appointment
Expert Crohn's Disease Care
The University of Chicago Medicine is at the forefront of Crohn's disease care, with a team of world-renowned specialists who collaborate to bring the latest research and innovations together to provide the best possible treatment. Our team offers medical treatment, minimally invasive surgery and access to clinical trials to treat the most complex and difficult cases.
Crohn's, a type of inflammatory bowel disease (IBD), is a complex chronic illness. The sooner patients are diagnosed, the earlier they can begin treatment and learn to manage their disease. In most patients, continuous treatment is more successful than periodic treatment during flare ups. We work closely with each patient to develop ongoing, effective treatment plans that focus on improving overall health and nutrition, minimizing side effects and relieving discomfort and stress.
Patient Care is at the Center of Everything We Do
Our team approach to care ensures that every aspect of a patient's treatment involves physicians from different disciplines, all experienced in the management of Crohn's disease. Our IBD Center has unparalleled facilities and access to the latest therapies, which allows our experts to help patients achieve remission, avoid relapses and have the best quality of life. As leaders in the field, we also provide ongoing educational programming to help both patients and medical professionals better manage IBD.
Improving Crohn's Treatment through Leading-Edge Research and Clinical Trials
Our Inflammatory Bowel Disease Center specialists actively collaborate with researchers to solve the complex problems Crohn's patient's face. As one of the only research centers in the country testing new IBD treatments, we can offer Crohn's patients the most advanced treatments available at an early stage of care. Our goal is to develop more effective and personalized treatments to ultimately prevent and cure Crohn's disease.

Crohn's Disease Management for Women
Our Crohn's disease doctors understand that Crohn's affects women differently than men, which is why we've developed our new comprehensive Fertility, Pregnancy and Sexual Function Program for women with IBD. The program brings together physicians from a variety of disciplines, including obstetrics and gynecology and gastroenterology, to address the challenges women face in Crohn's disease management.
Crohn's Disease Care for Children
More children are being diagnosed with inflammatory bowel disease (IBD), especially Crohn's disease. Some may develop symptoms as young as 18 months old. Although IBD is a lifelong disease, children with the disorder are able to live a normal life once the inflammation is controlled with treatment. UChicago Medicine treats a large number of children with Crohn's disease and, as a research institution, participates in numerous clinical trials that provide patients with access to new and innovative medications. That includes medications that aren't yet commercially available to children.
What is Ulcerative Colitis?
Inflammatory bowel disease is an umbrella term that includes Crohn's disease and ulcerative colitis (UC). Crohn's disease can occur anywhere in the digestive tract, while ulcerative colitis primarily affects the colon (large intestine) and rectum. Our gastroenterologists understand the complexities of Crohn's and ulcerative colitis and are dedicated to helping patients with either condition. Learn more about the difference between Crohn's disease and ulcerative colitis.
Destination UChicago: New Program to Aid Patients Traveling to Receive Care
We have a new program to ensure that patients have a seamless visit to Chicago. The program provides concierge services for patients traveling to UChicago Medicine from areas within the United States but beyond our primary and secondary service locations. The Destination UChicago team assists with patient and family needs and requests prior to arrival and through the duration of their visit. Services include:
Scheduling for initial and follow-up appointments
Physician selection assistance
Medical record retrieval
Lodging and travel assistance
Welcome visit upon arrival
Campus escorting upon request
Family support and personal visits
If you'd like to learn more about Destination UChicago, please email DestinationUChicago@uchospitals.edu or call 773-702-0525.
Meet Our Team
The Inflammatory Bowel Disease Center team includes experts in adult and pediatric Crohn's disease, surgery and nutrition and offers support services.
Meet Our Team
Support Groups
We host a support group for patients with Crohn's disease and their families from 7 to 9 p.m. on the second Wednesday of each month.
Support Group Information
Why we're winning the battle against Crohn's disease
Q and A with Russell Cohen, MD, Director of the Inflammatory Bowel Disease Center, about how recent developments have helped turn the corner on Crohn's disease.
Read the Article

Crohn's Disease Doctors Near You
Request an Appointment
Please complete this secure form. The information you provide will enable us to assist you as efficiently as possible. A representative will contact you within one to two business days to help you schedule an appointment.
Please note this electronic request form is not for same- or next-day appointments. If you prefer to speak to someone directly, please call 1-888-824-0200. If you have symptoms of an urgent nature, please call your doctor or go to the emergency room immediately.