At the University of Chicago Medicine, not only does our team provide the highest level of maternal-fetal care, but our experts are also leading the advancement of comprehensive care for women with high-risk pregnancies. Our physicians and scientists are actively exploring innovative strategies to improve outcomes and manage risk in maternal-fetal care.
Preeclampsia
University of Chicago Medicine experts have pioneered historical breakthroughs in preeclampsia research. In the 1960s, Frederick P. Zuspan, MD, former chair of the Department of Obstetrics and Gynecology, introduced a treatment protocol (intravenous magnesium sulfate) to prevent convulsions in women with preeclampsia, which was adopted internationally and is still used today.
Sarosh Rana, MD, MPH, a leading preeclampsia expert, carries on the tradition of research innovation at UChicago Medicine. Her work in the Rana Preeclampsia Laboratory focuses on the development of new tests to better diagnose and predict outcomes for mothers and babies suffering from preeclampsia.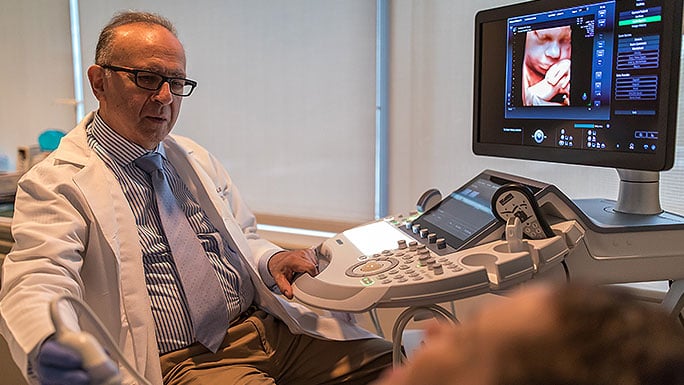 Obstetric Ultrasound
Jacques Abramowicz, MD, is an international leader in obstetric and gynecologic ultrasound research. His areas of research expertise include prenatal diagnosis of fetal anomalies and biological side effects and safety in ultrasound.