Craniosynostosis
Craniosynostosis and other craniofacial syndromes usually are the result of a birth defect that causes one or more connections in the skull to close prematurely affecting normal brain and skull growth. Craniofacial anomalies also can occur in adulthood as a result of trauma or tumors.
Signs & Symptoms
Abnormal shape of head

Abnormal shape of face
Treatment
Craniofacial anomalies diagnosed in childhood are generally treated by surgical intervention early in life. Adults with craniofacial problems that were diagnosed and repaired in childhood may have ongoing needs as a result of late complications from surgery or the need for further corrective surgeries.

Trauma and tumors can lead to craniofacial abnormalities similar to those seen in children with craniosynostosis. Treatment typically involves surgical intervention, which could include multiple surgeries in a planned and staged fashion.
Transition of Care
At University of Chicago Medicine, the transition from pediatric to adult care is seamless. Our craniofacial team includes neurosurgeons and plastic surgeons with advanced training in pediatric neurosurgery and craniofacial plastic surgery. This specialty trained team cares for both children and adults with these syndromes.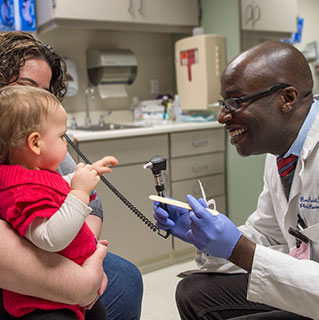 Craniofacial Anomalies Multidisciplinary Program (CAMP)
Our Craniofacial Anomalies Multidisciplinary Program (CAMP), one of the largest in the region, provides a thorough, team-based approach for the evaluation, diagnosis and treatment of children with craniosynostosis.
Learn more about our CAMP program
Request an Appointment
The information you provide will enable us to assist you as efficiently as possible. A representative will contact you within one to two business days to help you schedule an appointment.
You can also make an appointment with our providers by:
– Scheduling a virtual video visit to see a provider from the comfort of your home
– Requesting an online second opinion from our specialists
– Filling out an online questionnaire (e-visit) to get a same-day diagnosis and treatment for common conditions.
To speak to someone directly, please call 1-773-702-6222. If you have symptoms of an urgent nature, please call your doctor or go to the emergency room immediately.
Neurology & Neurosurgery Related Articles