UChicago Medicine Craniofacial Anomalies Multidisciplinary Program (CAMP)
The Craniofacial Anomalies Multidisciplinary Program (CAMP) at the University of Chicago Medicine Comer Children's Hospital is one of the largest craniofacial programs in the region. We are nationally accredited by the American Cleft Palate and Craniofacial Association (ACPA) and staffed by Chicago's largest pediatric neurosurgery group as well as renowned experts in pediatric plastic surgery, genetics and neuroradiology.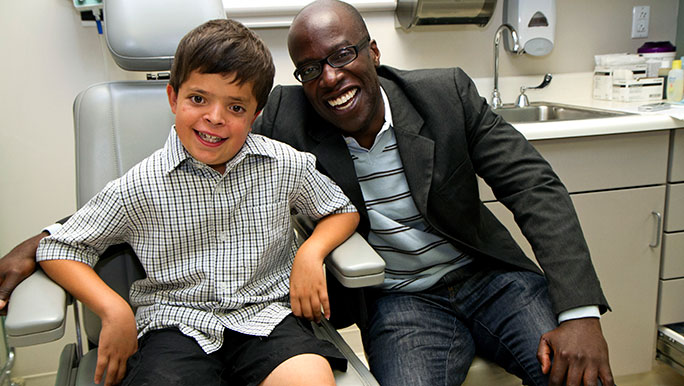 CAMP provides a thorough team approach for the evaluation, diagnosis and treatment of children with craniofacial disorders or birth defects of the face or head. These include:
Craniosynostosis: Premature closing of one or more "seams" on a baby's skull
Craniofacial syndromes: An abnormality in the face or head, such as Crouzon, Apert, Pfeiffer and Jackson Weiss
Frontonasal dysplasia: Abnormal development of the head and face before birth
Cleidocranial dysplasia: A defect affecting bones and teeth
Encephaloceles: Incomplete closing of skull bones
Rare craniofacial clefts: Severe deformities of the face and head that affect both bones and soft tissues
Children with craniosynostosis should be diagnosed and treated during infancy. Surgery, the main treatment, is usually recommended before the child turns one. Patients also require regular evaluations to ensure the skull, facial bones and brain are developing properly. Our geneticist diagnoses clinical syndromes associated with craniosynostosis and provides counseling and medical care for other medical problems associated with these syndromes.
We want to make your family's visit with the CAMP team as smooth and informative as possible. We are here to help you understand your child's diagnosis and treatment options so you can make the best care decision as a family.
Research & Discovery
Children with craniosynostosis and other craniofacial disorders receive additional benefits from UChicago Medicine's research efforts. To help future patients, the University of Chicago's Bernard Sarnat Craniofacial Development Laboratory is actively studying the regeneration of bone for the repair of complex craniofacial defects; the biology of skull and facial sutures; and bone substitutes and the survival of bone-cartilage grafts.
Our clinic offers comprehensive evaluation and care by several specialists in one day and in one location, with each patient getting highly focused care. We are dedicated to arranging a timely appointment with CAMP experts matched to your child's needs. When you call for an appointment, an experienced nurse will advise you on how to prepare for the visit so we have all the information needed to assess your child's condition. The CAMP clinic meets in the neurosurgery clinic Iocated on the fourth floor of the Duchossois Center for Advanced Medicine (DCAM 4D) at our main campus in Hyde Park.
Please feel free to contact us with questions.
Telephone: 773-702-6302
Fax: 773-702-1634
Mailing Address:
The University of Chicago Medicine
Craniofacial Anomalies Multidisciplinary Program (CAMP)
5841 S. Maryland Ave., MC 3027
Chicago, IL 60637
Clinical Coordinators
Susan Hoadley, RN, BSN
susan.hoadley@uchospitals.edu
773-702-6302

Heather Bailin, RN, BSN
heather.bailin@uchospitals.edu
773-702-6302

Administrative Coordinator
Marisa Cullnan
mcullnan@surgery.bsd.uchicago.edu
773-702-1797
Leia's Story
The doctors and specialists in the Craniofacial Anomalies Multidisciplinary Program (CAMP) at UChicago Medicine's Comer Children's Hospital reshaped the skull of young Leia Annerino, who was diagnosed with craniosynostosis.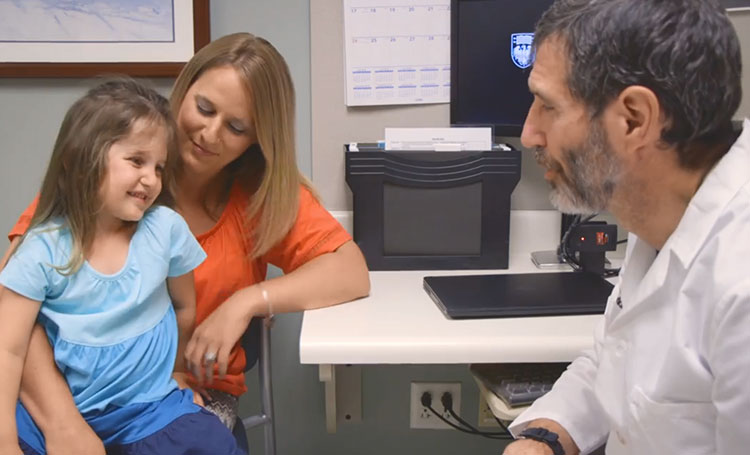 Pediatric Articles & News