When nervous system disorders are present at birth, patients seek treatment from pediatric neurosurgeons, pediatric neurologists and pediatric rehabilitation specialists. But when those same conditions appear later in life, patients often don't know where to turn. The neurosurgery program at the University of Chicago Medicine is one of the few programs in the country dedicated to providing comprehensive care for children and adults with congenital anomalies of the central nervous system (CNS).
The Margaret Hackett Family Program
The Margaret Hackett Family Program (MHFP) at UChicago Medicine is available as a centralized source for information on CNS congenital anomalies. Patients and families can utilize this program to find resources to help them better understand their diagnoses and options. In addition, the program has an established network of medical professionals with expertise in treating patients with such anomalies, and drive research focused on advancing understanding of these conditions and developing improved treatments.
Learn more about the Margaret Hackett Family Program:
Congenital Anomalies We Treat
CNS congenital anomalies are birth defects of the physical structure of the brain or spinal cord that develop in utero, or when a fetus is developing during pregnancy. This blanket term encompasses a broad range of disorders and medical conditions, from minor abnormalities to severe ones. There are other congenital anomalies that impact the growth or development of the central nervous system and are often considered central nervous system diseases.
Some congenital anomalies we treat:
In addition, UChicago Medicine is home to nationally known programs for adults with neurofibromatosis and tuberous sclerosis.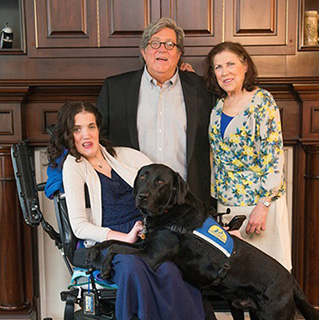 Neurosurgeon treats rare central nervous system disorders
After several surgeries, a family turned to UChicago Medicine to treat their daughter's rare central nervous system congenital anomalies.
Read more about Margaret's story
Request an Appointment
The information you provide will enable us to assist you as efficiently as possible. A representative will contact you within one to two business days to help you schedule an appointment.
You can also make an appointment with our providers by:
– Scheduling a virtual video visit to see a provider from the comfort of your home
– Requesting an online second opinion from our specialists
– Filling out an online questionnaire (e-visit) to get a same-day diagnosis and treatment for common conditions.
To speak to someone directly, please call 1-888-824-0200. If you have symptoms of an urgent nature, please call your doctor or go to the emergency room immediately.
Neurology & Neurosurgery Related Articles