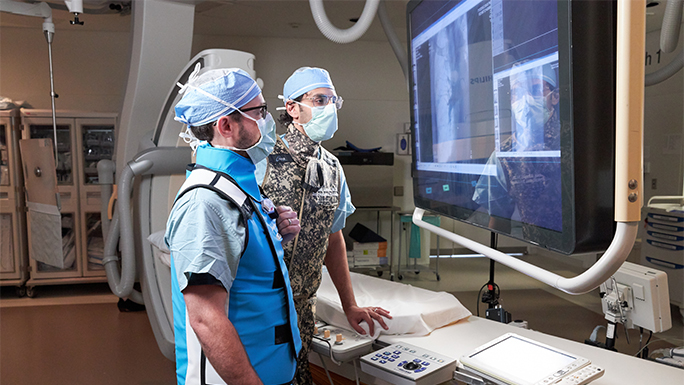 Diagnostic Services
Physicians at the University of Chicago Medicine use the latest technology and techniques to deliver definitive diagnoses for patients who may have venous thromboembolism (VTE) and/or related conditions. Our common diagnostic tools include:
Duplex ultrasonography

determines the speed of blood flow in the arteries and veins

Dual-energy computed tomography (CT) pulmonary angiography

is used to identify a pulmonary embolism

Ventilation-perfusion scan

measures breathing and circulation in the lungs
Cardiopulmonary exercise testing is used to evaluate the effect of blood clots on the cardiopulmonary system
Venography will use contrast dye in the veins of the legs or arms to show any blood clots or blockages
Invasive pulmonary angiography will allow your physicians to identify blood clots in the lungs and determine the best treatment
Magnetic resonance imaging (MRI) can provide a very detailed image of the blood vessels or heart

Request an Appointment
The information you provide will enable us to assist you as efficiently as possible. A representative will contact you within one to two business days to help you schedule an appointment.
You can also make an appointment with our providers by:
– Scheduling a virtual video visit to see a provider from the comfort of your home
– Requesting an online second opinion from our specialists
To speak to someone directly, please call 1-888-824-0200. If you have symptoms of an urgent nature, please call your doctor or go to the emergency room immediately.
Learn more about thrombosis and embolism