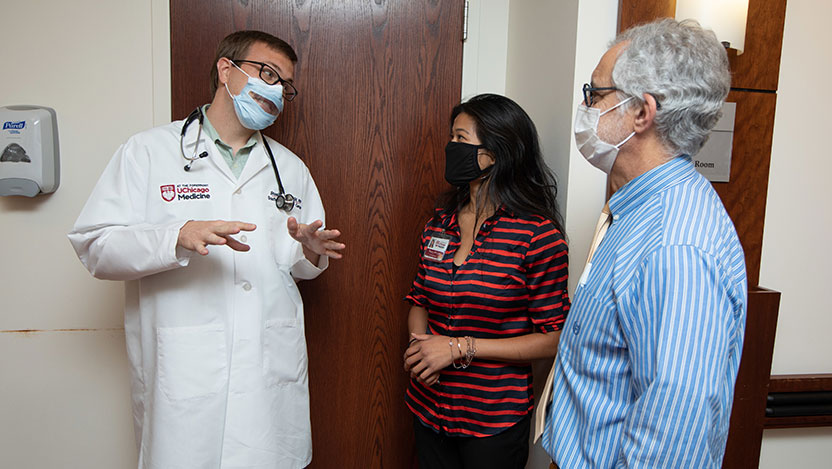 Geriatric Specialty Care Services
Based on the patient's initial evaluation, the primary care geriatrician may refer the patient for specialty care. Our geriatrics care team collaborates with other UChicago Medicine physicians and specialists in rheumatology, ophthalmology, neurology, oncology, geriatric psychiatry, dermatology, audiology, nutrition and other disciplines to meet the complex needs of older adults.
Successful Aging & Frailty Evaluation Clinic
UChicago Medicine's Successful Aging and Frailty Evaluation (SAFE) Clinic located in the South Shore Senior Center cares for some of the most vulnerable patients throughout the city.
Frailty is a problem associated with aging. The symptoms of frailty include weakness, poor tolerance for exercise, slowed motor performance, low physical activity and weight loss. It most often occurs when people are over the age of 75, though it can happen when someone is younger or older. Frailty may substantially increase the risk of falls, need for hospitalization, poor recovery after hospitalization, disability and death.
Our primary care geriatricians help identify individuals who are likely to have a lower tolerance for any new medical or surgical condition, and refer them to the SAFE Clinic. Surgeons also may refer older patients to the clinic to determine if they are fit for surgery.
Taking a team-based approach, the SAFE clinic evaluates and makes recommendations to help older adults meet the challenges of the aging process and get the best possible care based on their individual needs and goals. Ninety-minute appointments include assessment of functionality, gait speed, hand strength, home safety and nutrition.
Center for Comprehensive Care on Memory Disorders
The Memory Center uses a comprehensive approach to identify all possible causes of memory loss or behavior change. Our geriatricians work with UChicago Medicine's psychiatry and neurology teams to diagnose and manage dementia and memory disorders, including Alzheimer's disease, that are associated with aging.
The Memory Center offers the following services:
For more information, visit The Memory Center.
Mood Disorders Clinic
Our Mood Disorders Clinic team specializes in the comprehensive evaluation and treatment of psychiatric problems in older adults. Our clinicians assess common problems such as:
Anxiety
Depression
Memory problems
Sleep disturbance
Substance abuse
Based on our assessment, we develop individualized treatment plans using current, evidence-based treatments, such as medication, individual therapy and family counseling. We also incorporate interventions like support groups and lifestyle modifications, and can advise on holistic treatments.
Pharmacist Hypertension Management Service
The Pharmacy Hypertension Management Service (PHMS) is a pharmacist-run program that provides personalized help for patients of the South Shore Senior Center who have high blood pressure.
Through this program, patients may receive free supplies (pillbox and home blood pressure monitor), instruction on checking home blood pressures and education on measures that can help improve blood pressure, including nutrition, sleep, and other lifestyle habits. The PHMS pharmacist also will review a patient's medications list to help with simplifying medications or determining whether less expensive medications are available.
To be referred to the PHMS program, patients should ask their South Shore Senior Center primary care provider for a referral.
SHARE Network
Older adults and their families can benefit from UChicago Medicine's SHARE Network, which stands for Supporting Healthy Aging Resources & Education. SHARE provides education and services to thousands of older adults, caregivers and health care providers on the South Side of Chicago. Its educational and outreach efforts include training practitioners and caregivers about older adult health, providing free community health presentations, and linking those in need to resources on everything from dementia or delivered meals to opioid addiction. For more information, visit sharenetworkchicago.org.
Request an Appointment
The information you provide will enable us to assist you as efficiently as possible. A representative will contact you within one to two business days to help you schedule an appointment.
To speak to someone directly, please call 1-888-824-0200. If you have symptoms of an urgent nature, please call your doctor or go to the emergency room immediately.
South Shore Senior Center