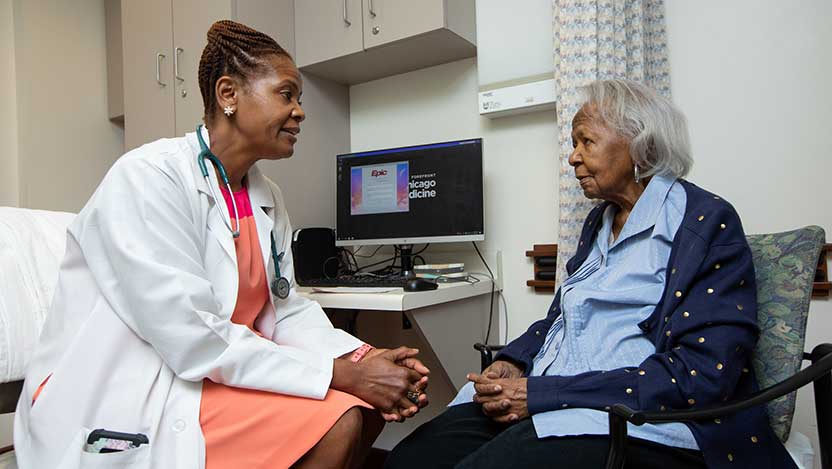 Compassionate Care for Older Adults
Our team provides primary care and specialty care focused on the needs of aging adults. Because our program is devoted exclusively to older adults, our staff members are uniquely sensitive to their needs and abilities. This approach means we are better able to distinguish between normal changes caused by aging and changes caused by diseases.
An older adult or their family member should consider consulting a geriatrics physician when:
Health conditions are causing significant impairment or frailty. These older adults typically live with a number of diseases and disabilities, including issues with cognition (thinking and memory skills)
Family members and friends are under significant stress as caregivers
The older person or their caregivers have trouble following complex treatments or managing relationships with many healthcare providers for multiple health problems
At the Forefront of Geriatric Care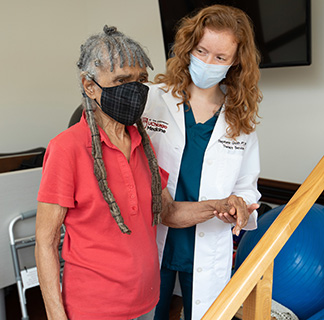 UChicago Medicine has one of the largest and most comprehensive care programs for older adults in the Midwest. Our physicians are fellowship-trained and board-certified in geriatric medicine. This means they have received years of specific training in the unique health needs of older adults and how to care for them. Our dedicated team also includes advanced practice providers, nurses, social workers, physical therapists, pharmacists, psychiatrists and neurologists, who are also specially trained to work with older adults.
Under our team-based model, all medical care for older adults is coordinated through a primary care geriatrician. Even though patients may see several specialists outside of the geriatrics program, this approach ensures that all members of a patient's care team are communicating with each other, as well as with the patient's family.
Attention to Quality of Life
We emphasize quality of life as a key goal in our medical care of older adults and work closely with patients' families to offer comprehensive, individualized care for every patient.
We focus on a person's ability to perform basic activities, such as eating, dressing, walking, managing medications, shopping and cooking. These activities can dramatically improve an older person's quality of life and independence.
Sensitivity to End-of-Life Issues
We work tirelessly to preserve each person's comfort and dignity as they approach the end of their life. Our team is available to discuss and document advance directives including healthcare power of attorney.
Age-Friendly Health System
UChicago Medicine's South Shore Senior Center – the site for our geriatric primary care and specialty care services – has been recognized by the Institute for Healthcare Improvement as an Age-Friendly Health System committed to excellence in the care of older adults in our community. This means we reliably provide four evidence-based elements of high-quality care, known as the "4Ms," to our older adult patients.
The 4Ms include:
What Matters – We know and align care with each older adult's specific health outcome goals and care preferences
Medication – We carefully review each patient's medication list for proper indication, dosing and drug interactions
Mentation – We prevent, identify and treat dementia, depression and delirium
Mobility – We ensure that older adults move safely every day to maintain function and independence
Request an Appointment
The information you provide will enable us to assist you as efficiently as possible. A representative will contact you within one to two business days to help you schedule an appointment.
To speak to someone directly, please call 1-888-824-0200. If you have symptoms of an urgent nature, please call your doctor or go to the emergency room immediately.
South Shore Senior Center