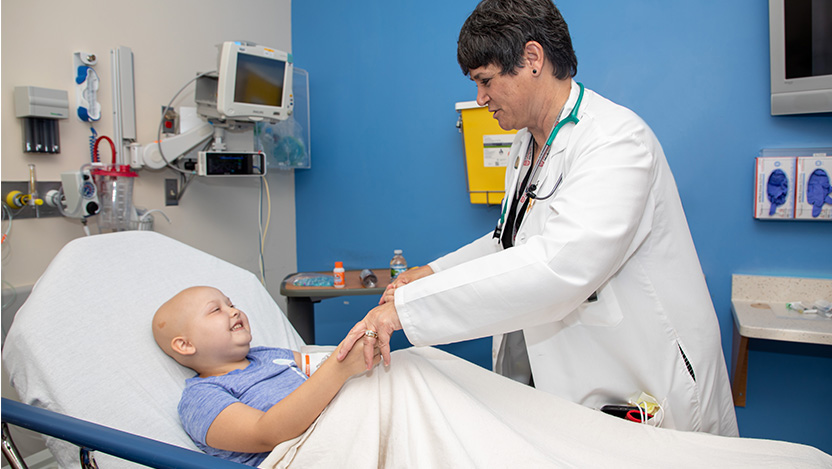 James LaBelle, MD, PhD, leads the pediatric stem cell transplant team at the University of Chicago Medicine Comer Children's Hospital.
At Comer Children's, our multidisciplinary pediatric stem cell transplant team includes a wide array of specialists and support staff who all work together to provide the best, most comprehensive care for our patients.
Meet Our Pediatric Stem Cell and Cellular Therapy Physicians
Meet Our Pediatric Stem Cell Transplant Advanced Practice Nurses
Alerie Dunkel, RN, APN
Kathleen Breen, RN, APN
Kelly Kramer, RN, APN
Mary Rourke, RN, APN
Meet Our Multidisciplinary Team of Experts
During your stem cell transplant journey, you will have access to Comer Children's robust team of pediatric specialists and support services.
Our expert team includes:
Child Life
Alex Pulaski, CCLS (inpatient)
Lisa Wolff, CCLS (outpatient)
Clinical Director Pediatric Cancer Services
Thomas Houchins, DNP, RN, CCRN_K, NE-BC
Clinical Research Associates
Chris Omahen, MS
Melissa (Zeilner) Marx, MPH, CCRP
Donor Advocate
Infectious Disease
Nurse Managers
Danielle Bean, BSN, RN, CPN
Cassidy Murphy, BSN, RN
Lauren Rubio, BSN, RN
Fiona Vachachira, BSN, RN
Nurse Pt and Research Coordinator
Social Workers
Sondra Taylor
Kathyrn Lorenger
Our Pediatric Cancer Locations in Chicago and Merrillville
Request an Appointment
The information you provide on this secure form to request an appointment with a Comer pediatric stem cell transplant expert will enable us to assist you as efficiently as possible. A representative will contact you within one to two business days to help you schedule an appointment.
You can also make an appointment with our providers by:
– Scheduling a virtual video visit to see a provider from the comfort of your home
– Requesting an online second opinion from our specialists
To speak to someone directly, please call 773-702-6169. If you have symptoms of an urgent nature, please call your doctor or go to the emergency room immediately.
For Referring Physicians
To refer a pediatric patient for a pediatric stem cell transplant, please call UCM Physician Connect at 1-800-824-2282.
Pediatric Cancer Articles