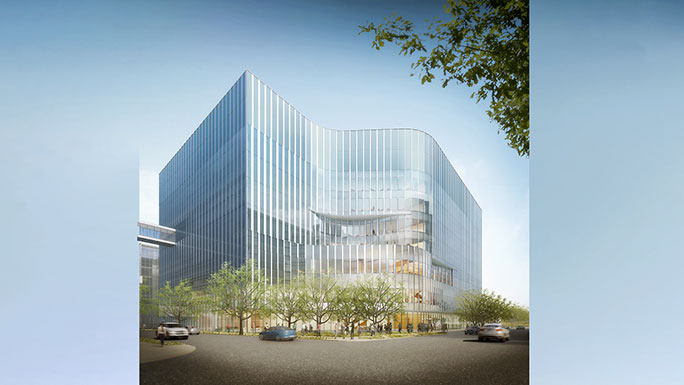 The University of Chicago Medicine plans to establish Chicago's first freestanding facility dedicated to cancer care and research. Building a world-class cancer center on the South Side will increase access to advanced care in a part of Chicago that has seen shrinking healthcare resources for many years.
By the Numbers
Size: 575,000 square feet; seven floors, a mechanical penthouse, a lower-level support floor
Construction cost: $815 million
Location: East 57th Street, between South Maryland and South Drexel Avenues
Anticipated annual volume: 200,000 outpatient visits and 5,000 inpatient admissions
Key features:
80 private beds dedicated to patients with cancer (64 medical-surgical and 16 ICU), with family space to accommodate overnight stays
90 consultation and outpatient exam rooms
A rapid assessment/urgent care clinic to protect immunocompromised oncology patients from exposure to other patients
Infusion therapy rooms grouped by cancer type to replace an outdated open design
Cancer imaging equipment (two MRIs, two CT scanners, two ultrasound units, two procedure rooms with mobile C-arm/fluoroscopy and an X-ray)
A breast center that will include screening and diagnostic imaging and biopsy rooms
Dedicated clinical trial spaces, for streamlined access to the latest research
A center focused on prevention, detection, treatment and survival, offering complementary therapies, stress reduction, community education and well-being support
Shell space that can expand vertically and horizontally, providing flexibility for future growth and technology.
Economic impact: More than 500 construction jobs. At least 41% of contract dollars will go to minority-owned and woman-owned firms.
Architect: CannonDesign
Download a fact sheet about the proposed cancer center (PDF)
UChicago Medicine updates plan for the city's first freestanding cancer facility
UChicago Medicine's project to build a hospital dedicated to cancer care, prevention and research has been revised in response to needs of patients and will bring world-class, human-centered care to the South Side, where the incidence of cancer is too high.
View the the latest news about the proposed cancer center