For more than 50 years, the University of Chicago has been a leader in cancer research. Our scientists and clinicians have consistently expanded the boundaries of knowledge and transformed cancer care and prevention.
Seminal discoveries made at UChicago have stimulated the development and introduction of many of the cancer treatments used today. As the examples below demonstrate, many of the roots of chemotherapy, hormonal therapy, gene therapy and bone marrow transplantation can be traced to UChicago.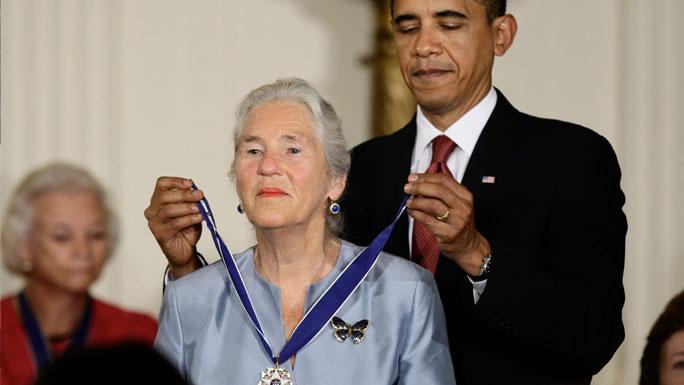 Janet Rowley, MD, DSc, (1925-2013) the Blum-Riese Distinguished Service Professor of Medicine, made many breakthroughs vital to understanding the relationships between genetics and cancer, and opened the door to effective targeted therapies for leukemias and lymphomas.
In 1972, Dr. Rowley identified a chromosomal translocation (a genetic anomaly) in patients with chronic myelogenous leukemia. Her insight proved central to our understanding of the genetic basis of cancer, and initiated a flurry of discoveries concerning other types of leukemias and lymphomas.
She was the recipient of many prestigious awards including the 1998 Lasker-DeBakey for Clinical Medical Research Award, 1998 National Medal of Science, 2009 Presidential Medal of Freedom, 2009 Gruber Genetics Prize, 2009 Association of American Cancer Institutes Distinguished Scientist Award, and 2010 American Association for Cancer Research Award for Lifetime Achievement in Cancer Research.
In 1943, Leon Jacobson, MD, an early pioneer in cancer chemotherapy, used nitrogen mustard to treat patients with leukemia and lymphoma. This was one of the first successful cancer treatments using chemotherapy.
In the late 1940s, Dr. Jacobson performed the first experimental bone marrow transplant. After using radiation to kill the bone marrow and spleen of a mouse, he found he could save the mouse by transplanting healthy spleen tissue from another mouse. The transplanted spleen cells repopulated the marrow and restored the production of blood cells. Today, our pediatric and adult bone marrow transplant programs treat approximately 200 patients a year for leukemia, lymphoma, various solid tumors, and genetic diseases.
In 1966, Charles Huggins, MD, received the Nobel Prize for Physiology and Medicine for his fundamental work in hormonal therapy for prostate cancer. His research offered scientists a new perspective on the behavior of all hormone-responsive cancers.
Dr. Huggins later demonstrated that cancer cells require the stimulus of chemical signals to grow and multiply. He proved that suppressing the signaling process could inhibit widespread metastasis.
Elwood Jensen, PhD, the Charles B. Huggins Distinguished Service Professor Emeritus, received the 2004 Albert Lasker Basic Medical Research Award for discoveries that "revolutionized the fields of endocrinology and metabolism." During his 35-year career at UChicago, Dr. Jensen developed tests, which are still used today, to predict whether patients with breast cancer would benefit from hormonal therapy.