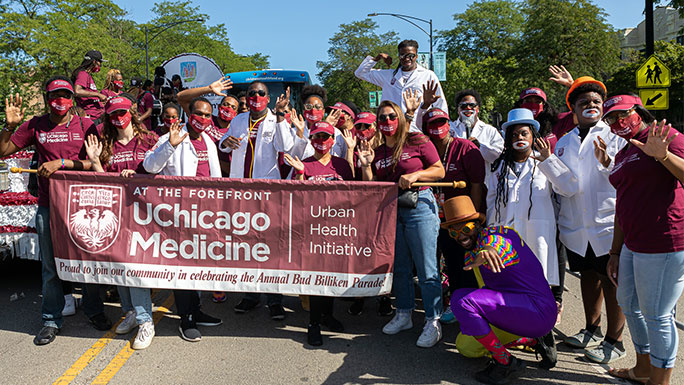 2021 UChicago Medicine Community Benefit Report
UChicago Medicine provides an annual report of benefits and services we offer to improve health in our South Side communities.

As part of our commitment to advance health equity, the University of Chicago Medicine invested $607 million in benefits and services to the community in fiscal 2021. This includes $520.4 million invested at the University of Chicago Medical Center and $86.5 million invested at UChicago Medicine Ingalls Memorial.

This investment included supporting patients who rely on Medicare or Medicaid or who were unable to pay for care. It also included teaching and training tomorrow's health care professionals, funding medical research and donating to community groups for health and wellness initiatives.
Our Strategic Approach to Community Health Impact
UChicago Medicine conducts a Community Health Needs Assessment to strategically identify and improve the health status, behaviors and needs of residents in our service area.
Archived Community Benefit Reports
Programs & Services
In collaboration with our dedicated partners, UChicago Medicine supports a variety of programs and services to strategically address complex health needs in South Side communities.
Programs & Services
Events & Outreach
Connect with UChicago Medicine at community events, including fitness classes, health fairs, educational forums, festivals and more. Find upcoming events and opportunities to get involved.
Events
Grants & Sponsorships
UChicago Medicine awards grants and sponsorships to select community partners who share our commitment to improving health outcomes on Chicago's South Side.
Grants & Sponsorships
Community Outreach and Health Equity Articles