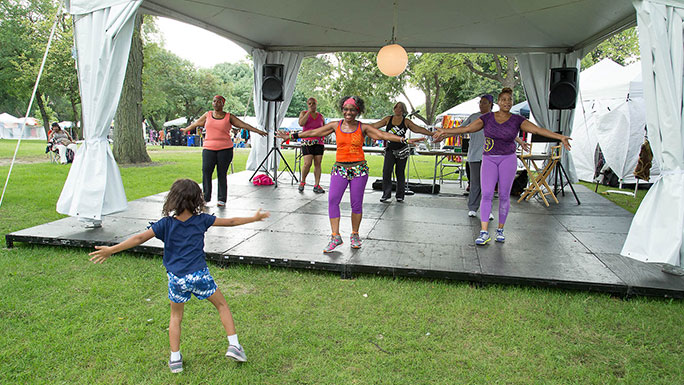 The University of Chicago Medicine offers and supports events that promote community health and wellness. UChicago Medicine participates in health fairs, forums, fitness programs, festivals and other events to provide health-focused education and services on the South Side.
August 2019
Third District Family Health & Fitness Fair
Saturday, August 3 | 10 a.m. to 2 p.m.
Presented by State Senator Mattie Hunter, the 16th annual Family Health & Fitness Fair offers free services, activities, entertainment and more. The fair takes place at 33rd & State Street on the Illinois Institute of Technology (IIT) campus.

Bud Billiken Parade
Saturday, August 10 | 10 a.m.
Presented by The Chicago Defender, the 90th annual Bud Billiken Parade continues a famous Chicago tradition, celebrating African-American history and encouraging children to start the school year with enthusiasm. The parade starts at Oakwood Drive and Martin Luther King Boulevard and ends at Garfield Boulevard in Washington Park.

African Festival of the Arts
Friday, August 30 | 1 p.m. to 10 p.m.
Saturday, August 31 – Sunday, September 2 | 10 a.m to 10 p.m.
Presented by Africa International House, the 30th annual African Festival of the Arts is a cultural celebration featuring an abundance of food, vendors, entertainment, health resources, family activities and more. The festival takes place during Labor Day weekend in Washington Park.


Weekly & Monthly Events
Learn about free community forums and wellness activities, including workshops open to fitness program participants.