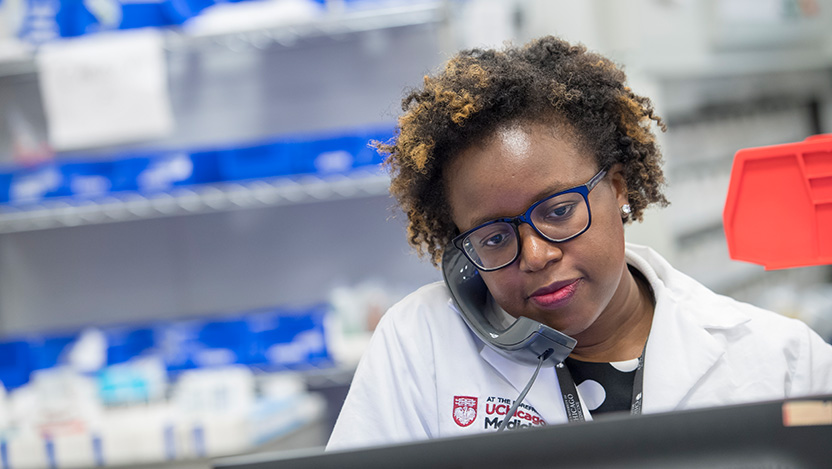 The 340B prescription drug program is a vital lifeline for supporting critical health services in our communities. Under the 340B Program, pharmaceutical manufacturers that participate in Medicaid are required to sell covered outpatient drugs at discounted prices to hospitals that care for a disproportionate share of uninsured and low-income patients (called "covered entities"). Covered entities agree to adhere to strict program requirements that ensure discounted drugs are used only for qualifying outpatient patient encounters. Savings from the 340B Program help covered entities across the country meet the healthcare needs of their underserved patients.
The University of Chicago Medical Center (UCMC) is eligible to participate in the 340B Program as a disproportionate share hospital. In 2023, UCMC's disproportionate share percentage was 32.26%, well-above the minimum threshold of 11.75% required for disproportionate share hospitals to participate in the 340B Program. UCMC is one of the largest providers of Medicaid services in the state of Illinois, and additionally, in fiscal year 2022, UCMC invested $686.2 million in benefits and services into the community.
Learn more about UCMC community benefits
Benefits of the 340B Program
Savings derived from the 340B Program enable UCMC to provide a number of essential services to our patients and community:
Medication Access and Affordability Program – Affordability is a primary reason patients fail to take prescribed medications. UCMC has a Medication Access and Affordability program, which provides reimbursement guidance and cost savings to patients who are uninsured or experiencing high copays. For example, UCMC's outpatient pharmacy allows uninsured or underinsured patients to pay a fixed price of $5 or $10 for a 30-day supply of commonly prescribed medications, including inhalers, antimicrobials, antidiabetic, and antihypertensive drugs.
Prescription Delivery Services – UCMC is located in a pharmacy desert, meaning our patients do not have easy access to retail pharmacies in our community. To ease the burden on patients, UCMC provides free medication home delivery services, so our patients can receive their medications without having to travel to a pharmacy.
Emergency Department Outpatient Pharmacy – UCMC operates an outpatient pharmacy in our Emergency Department, making sure patients are able to leave with their take-home medications following their emergency visit, without having to make a separate trip to the pharmacy.
Outpatient Care Clinic Assistance – Savings from the 340B Program have also allowed UCMC to expand pharmacy services in other areas of the hospital. For example, the ambulatory pharmacy team assists providers in our outpatient care clinics in managing patients' chronic disease states, such as hypertension and diabetes.
Meds2Beds Program - UCMC also offers a Meds2Beds program to ensure that hospitalized patients have access to their prescription medications prior to being discharged. This service has grown significantly throughout the years with a focus on medication counseling and prescriptions ready at time of discharge. Refills are then mailed to the patient's home or picked up at the outpatient pharmacy.
Adult and Pediatric Trauma Centers – UCMC also uses 340B savings to further expand the non-pharmacy services it offers to patients and to more broadly invest in the community. For example, UCMC opened its level 1 adult trauma center in 2018—prior to which time the South Side had been without an adult trauma center for 27 years. Together with its level 1 pediatric trauma center, UCMC's trauma program operates a Violence Recovery Program to take a more comprehensive approach to breaking the cycle of violence in the community.
Oncology Center Development - Cancer is the second leading cause of death in the UCMC community. To address this community need, UCMC has recently broken ground on an $815 million project to build Illinois' first and only freestanding cancer hospital. The 575,000 square-foot, seven-story pavilion is expected to open in 2027 and will provide patients and the community access to the newest diagnostic innovations and leading-edge therapies.
Impact of Lost 340B Savings
In the face of declining reimbursements over the years, UCMC has resisted scaling back on services by using 340B program funds to maintain services that are essential to serve our community. However, in recent years, many of the largest drug manufacturers have unilaterally stopped providing discounts to 340B drugs dispensed through community and specialty pharmacies that contract with 340B covered entities, in violation of the 340B statute. Such actions have drastically cut into UCMC's 340B savings and as a result, threaten the vital care and programs that UCMC provides to its patients and community.
News from UChicago Medicine