Skip to content
Kate's birth story: Care team supports mom, family through 3 days of labor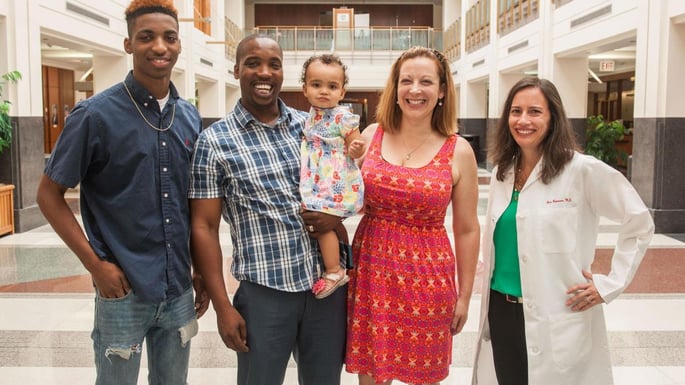 Kate McClinton and her family meet with Iris Romero, MD, an obstetrician at the University of Chicago Medicine Family Birth Center, after the May 2015 birth of Kate's daughter Daniella.
Kate McClinton was selective in choosing a doctor to deliver her firstborn child.

As an avid information-seeker and the daughter of two medical professionals, the middle school teacher interviewed a handful of obstetricians before meeting Iris Romero, MD, MS. She was immediately impressed by Dr. Romero's down-to-earth, yet straightforward, demeanor and her expertise in birthing options.

During prenatal care, Kate and Dr. Romero discussed preferences and priorities for Kate's childbirth experience.

"I always explain that yes, we want this to be a great experience for you and I don't expect it to be anything less," said Dr. Romero. "But, our number one priority is to keep you and your baby safe."

As Kate's pregnancy progressed, her confidence in Dr. Romero, her nurses, and the entire care team grew even stronger.

"As her doctor, I take 100 percent responsibility for coordinating her care, but I can't do it on my own," said Dr. Romero. "I need the other people on the care team, and we're all highly committed to ensuring a great experience for each of our patients and their families."

Kate went into labor in early May 2015, eventually choosing to deviate from her initial preference for a drug-free childbirth experience. With her blood pressure rising at an unsafe rate and after trying two unsuccessful induction methods, Kate opted for Pitocin. Additionally, after trying oral pain medications during three days of labor, she also opted for an epidural.

"Every step of the way, my care team explained different possible benefits and negatives and let me and my husband make decisions," Kate recalled. "I was informed, and I was okay. I wasn't forced into anything. We talked about every option before moving on."

Kate and her husband, Elvin, welcomed their daughter, Daniella Grace McClinton, to their family. Daniella was born healthy, but experienced some breathing complications. The McClinton's baby girl spent her first couple of days in the Neonatal Intensive Care Unit (NICU) at the University of Chicago Medicine Comer Children's Hospital.

Kate and Elvin were grateful that, in addition to the expertise, accessibility and courtesy of our neonatal team, Kate had full support to breastfeed exclusively and to practice skin-to-skin in the NICU. The couple was even more grateful to take their newborn home on day three.

As Kate describes the attentive care she and her family received from our experts, she expresses confidence in her decision to deliver her baby at UChicago Medicine.

"Whatever happens, if you have complications, somebody there has been through it and knows how to deal with it — and, they'll do it compassionately, instead of rushing you out like you're a number," Kate said. "I've been to many hospitals and never experienced customer service on this level.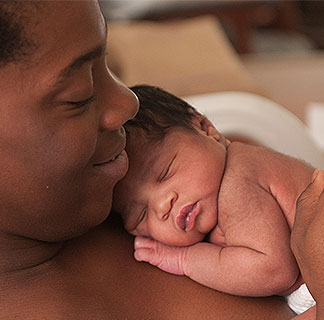 Family Birth Center
The Family Birth Center offers a customized birth experience in the comfort and privacy of our nurturing environment. Our team of experts support expectant mothers and families with compassion and respect through pregnancy, childbirth, bonding, breastfeeding and healing.
Learn More
Obstetrics and Gynecology Articles