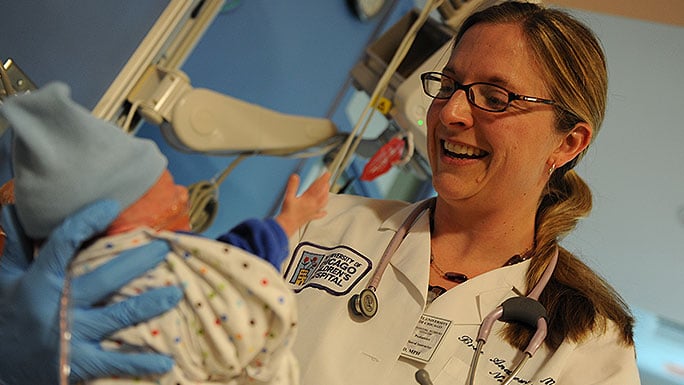 Our neonatology experts provide a high level of specialized support for infants with complex health challenges, including:
Premature babies — some weighing barely more than a pound
Infants with critical illnesses and congenital conditions
Pediatric subspecialists in all medical and surgical areas are available at all times and are supported by hospital staffs with technical, laboratory and service expertise. We offer the latest in pediatric surgery, cardiac surgery and noninvasive cardiac procedures.
Specialized Care for Premature & Critically Ill Infants
The Margaret M. and George A. Stephen Neonatal Intensive Care Unit (NICU) at Comer Children's Hospital is among the largest in the Midwest, with approximately 1,000 admissions every year.
Our NICU features 47 designated tertiary care beds (Level III) and 18 convalescent (Level II) beds. Extracorporeal membrane oxygenation (ECMO) can be provided for up to three infants at a time by a special group of ECMO specialists who supplement the NICU nursing staff.
Because you, your family and your child's health care team never want to be far from your baby, we have added these amenities to the area surrounding the NICU:
Visitor's waiting room
Breast milk pumping rooms
Computer facilities
Support facilities for nursing staff
On-call sleeping rooms
At Comer Children's, parents are able to accompany their children throughout their stay in the NICU. In addition, the NICU is just steps from the Family Birth Center, a leading-edge facility located inside Comer Children's. Having the NICU only a short walk from labor and delivery is a tremendous benefit to families whose babies are premature and/or have complications.
Our Level 2 nursery provides specialized newborn care with extended neonatal capabilities. Our NICU staff is extensively trained to care for babies born at 30 weeks and older.
At the Ingalls Special Care Nursery, we offer advanced equipment, technology and health services for critically ill infants, including:
Oxygen and respiratory monitoring for babies experiencing breathing difficulties
IVs for the delivery of special medications
Incubators and other assistance to maintain body temperature
Feeding assistance
Ventilator support
Pediatric Articles & News