Skip to content
UChicago Medicine to feature exclusive Chicago screening of 'Burden of Genius' and transplant panel discussion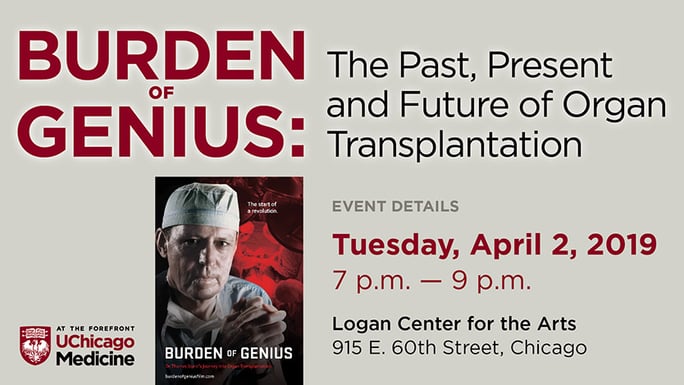 The University of Chicago Medicine will be hosting a free event on Tuesday, April 2, that will feature an award-winning documentary about the "father of modern transplantation" and a panel discussion with members of the medical center's transplant surgery team.
The event will begin with a reception at 5:30 p.m., followed by a 30-minute panel discussion at 7 p.m., then the exclusive Chicago screening of "Burden of Genius: Dr. Thomas Starzl's Journey Into Organ Transplantation." The panelists will include:
Carl Kurlander, an award-winning screenwriter and producer of "Burden of Genius," a University of Pittsburgh documentary that won the Cleveland International Film Festival's Global Health Competition.
John Fung, MD, PhD, co-director of the UChicago Medicine Transplant Institute and a protégé of Starzl's. Fung is featured in the documentary.
Valluvan Jeevanandam, MD, chief of cardiac surgery and surgical director of the Heart and Vascular Center at UChicago Medicine. He has performed the heart transplants in all six of the institution's heart-liver-kidney surgeries.
Starzl pioneered many of the surgical techniques still used for organ transplants today. He performed the first human liver transplants in the 1960s and the first simultaneous heart and liver transplant on a child in 1984. His research on immuno-suppression also made lifesaving organ transplantation a possibility for millions of patients.
Meanwhile, the University of Chicago also contributed to advancing organ transplantation, including the following:
Alexis Carrel developed suturing techniques that allowed surgeons to reconnect blood vessels and arteries, which made organ transplantation possible. He performed some of the first rudimentary organ transplants with animals and later won the Nobel Prize for his work in 1912.
In 1989, the late Christoph Broelsch performed the world's first living donor liver transplant and pioneered techniques for partial liver transplants, which allow two patients to receive portions of a liver from one donor.
Just this past December, UChicago Medicine teams completed two back-to-back heart, liver and kidney transplants in little more than one day's time span. UChicago Medicine has now performed six of these triple-organ procedures, more than any other institution in the world.
Space is limited, and registration is required. To register for the event, visit uchicagomedicine.org/burdenofgenius.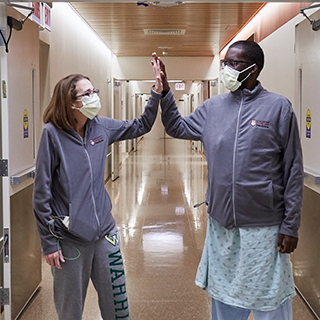 Making History
Both 29, Sarah and Daru were several rooms apart in the University of Chicago Medicine ICU. On an unexpected journey into the record books, they forged a unique friendship along the way.
Learn more about Daru and Sarah