Skip to content
Kovler Diabetes Center raises over $35K for diabetes care and research at Salon Kovler event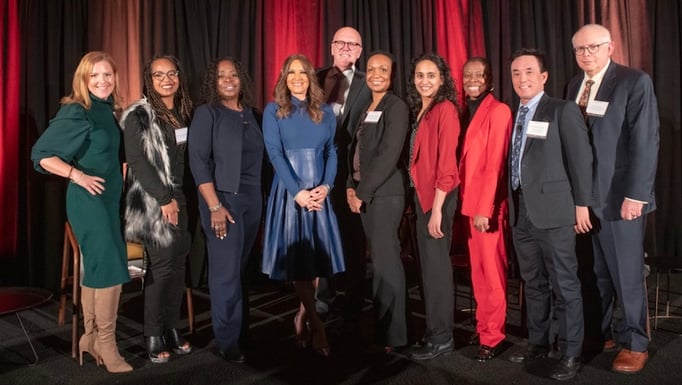 From left to right: Kovler Executive Director, Peggy Hasenauer, MS, RN; Event Chairs, Veronica Robinson, MD and Tonya Coats, MD; Cheryl Burton, ABC7 News; Tom Jackiewicz, UChicago Medicine; Celeste Thomas, MD; Arshiya Baig, MD, MPH; Tracey Brown, Walgreens; Elbert Huang, MD, MPH; and Kovler Director, Lou Philipson, MD, PhD.
The University of Chicago Medicine Kovler Diabetes Center raised more than $35,000 at its annual Salon Kovler event, which supports the health system's critical diabetes care and research initiatives that are focused on reducing healthcare disparities.
The March 9 fundraiser and educational program at Navy Pier brought together community stakeholders, corporate leaders, and UChicago Medicine faculty and staff for a conversation about diabetes disparities and how to overcome them. It was moderated by 17-time Emmy Award winning veteran ABC 7 Chicago news anchor Cheryl Burton.
Every two minutes someone dies due to diabetes-related complications. Many of those complications could have been avoided with proper access to care from the onset of diagnosis.
Diabetes is a metabolic disease that impacts more than 37 million Americans, with more than 11% of the U.S. population having a form of diabetes. Another 96 million adults are considered pre-diabetic, according to the U.S. Centers for Disease Control and Prevention.
Diabetes rates are notably higher in communities of color. On Chicago's South Side, for example, the rate is 30% higher than in Chicago as a whole. While work continues at UChicago Medicine and across the country to reduce the existing racial and socioeconomic disparities in diabetes diagnosis, treatment and management, there's still substantial challenges that must be overcome to eliminate disease inequity.
The Kovler Diabetes Center's ongoing research and care programs will continue to prioritize improving health disparities, particularly on the South Side of Chicago.
During the event, Burton interviewed Tracey Brown, Executive Vice President and President, Walgreens Retail & U.S. Chief Customer Officer, to discuss Brown's journey with type 2 diabetes, her time as the chief executive officer for the American Diabetes Association, and her vision for Walgreens as an accessible healthcare destination.
Following the interview, Burton moderated a panel where UChicago faculty members, Arshiya Baig, MD, MPH, Elbert Huang, MD, MPH, and Celeste Thomas, MD, shared insights about their work exploring healthcare disparities in diabetes care.
Thomas oversees the "Using Technology to Address Disparities and Promote Healthcare Equity in Type 1 Diabetes", or EquiT1D study, which aims to address disparities in care by supporting adults with type 1 diabetes with diabetes technology devices such as continuous glucose monitors (CGMs).
Baig has worked on multiple community-based participatory research projects to improve healthcare delivery to Latinx communities in both Los Angeles and Chicago.
Huang has studied clinical and health care policy issues at the intersection of diabetes, aging, and health economics throughout his career. Alongside Stacy Tessler Lindau, MD, Huang currently oversees the "My Diabetes, My Community" study, which investigates personalized care models for older adults with type 2 diabetes.
The Kovler Diabetes Center provides holistic treatment, care and education to empower patients to effectively manage their diabetes for a lifetime. It is led by renowned endocrinologist and diabetes expert Louis Philipson, MD, PhD, the James C. Tyree Professor of Diabetes Research and Care of Medicine and Professor of Pediatrics.
"The Kovler Diabetes Center's ongoing research and care programs will continue to prioritize improving health disparities, particularly on the South Side of Chicago," Philipson said. "It's critical that we foster more opportunities among community leaders to learn from one another, and ultimately collaborate as agents of change."
Kovler Diabetes Center
UChicago Medicine offers a patient-centered, science-based approach for managing insulin-dependent Type 1 diabetes, complex Type 2 diabetes, gestational, pre-diabetes and monogenic diabetes.
Learn more about our expertise