Skip to content
Traveling the world with Crohn's disease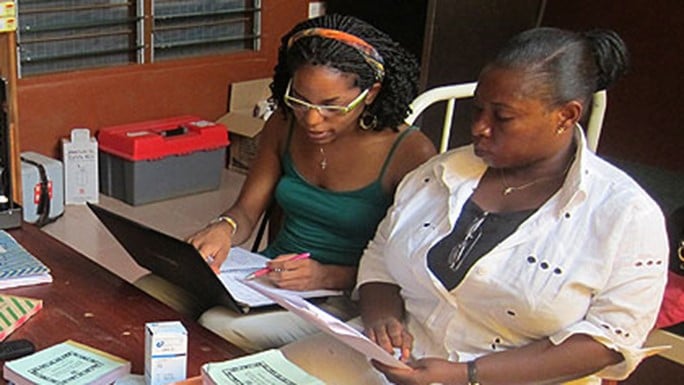 When Nuriya Robinson, MD, travels outside the United States, her carry-on bag contains much more than the requisite passport, money and reading materials. Her must-haves include medication with the original label, healthy snacks, a change of underwear, toilet paper and contact information for a local doctor at her destination.
"I try to be as prepared as possible," said Robinson, an obstetrician/gynecologist who spends four to six months a year working in Africa while coping with Crohn's disease, an inflammatory bowel disease that causes abdominal pain, diarrhea, nausea and vomiting. "I'm not going to let Crohn's stop me from pursuing the goals I have in life," she added.
Crohn's disease is a chronic, lifelong condition that causes inflammation in the lining of the gastrointestinal tract. Although there is no cure, symptoms can be controlled, allowing patients to lead active lifestyles. "There are many people living with inflammatory bowel disease who take medication, and are able to travel and work without limitations," explained University of Chicago Medicine gastroenterologist Sushila Dalal, MD, who helps Robinson manage her symptoms.
Robinson was diagnosed in 2010 during her medical training at the University of California, San Francisco. Severe abdominal pain and bloody diarrhea landed her in the emergency room shortly after she returned from a trip to Liberia in West Africa. Doctors thought it was an infection, and sent her home with antibiotics and pain medication.
A few days later, however, her symptoms returned. A subsequent colonoscopy showed abnormalities that confirmed she had Crohn's disease, which is thought to result from a combination of genetics, an overactive immune system and environmental factors. Her doctor prescribed a biologic therapy, Humira, which specifically targets a protein associated with inflammation.
"In about 24 hours, I felt like a new woman," Robinson said. That didn't mean she was symptom-free, however. Abdominal pain and diarrhea lingered, but were much improved. By the fall of 2012, after she had moved to Chicago, Robinson developed severe joint pain, a non-gastrointestinal symptom of Crohn's disease. She took a corticosteroid and had steroid injections in her knees to relieve pain from inflammation.
"It's challenging because in this situation I'm a patient, not a doctor."
While conducting women's health research in Ghana and Nigeria in 2013, Robinson had a severe bout of diarrhea and nausea. She saw a local doctor, who thought her symptoms might be typhoid fever. Antibiotics provided some relief, but she came to an important realization.
"I think the underlying problem was that I wasn't taking my medication as I should have," Robinson said. Travel in rural Africa made it difficult to stay on a schedule that required three doses of medication a day. Local foods likely triggered her symptoms, too.
"There aren't a lot of restaurants in rural West Africa, so I eat street food when I'm there," Robinson explained. Breakfast might be a fried donut, followed by bananas during the day, with fried rice and fried chicken for dinner. Vegetables are scarce, as is clean water to wash them.
"My disease doesn't do well with fried food and a lot of oil," she added. "But you have to eat what's available or you don't eat."
After returning from Ghana and Nigeria, Robinson's symptoms worsened and her gastroenterologist at a local community hospital referred her to the University of Chicago Medicine Inflammatory Bowel Disease (IBD) Center. Initially she saw the Center's director, Russell Cohen, MD, who adjusted her medication and recommended that she avoid fiber-rich foods.
Dalal made further medication changes several months later and suggested that Robinson check out the IBD Center's monthly support group for patients with inflammatory bowel disease. "It's an amazing experience — cathartic and very supportive," Robinson said.
The significance of a Crohn's diagnosis "is hard to grasp," Dalal said. "Most patients will always need to be on medication, and that can be very anxiety-provoking."
Support group meetings offer an opportunity to share stories and exchange information. "Everyone's disease is different, so we get tips from each other," Robinson explained. One person in the group may have good advice on ways to avoid stress, which can trigger symptoms, while others talk about which medications they've found to be effective.
Despite being a physician herself, Robinson also took advantage of the University of Chicago Medicine's patient education seminars and workshops to learn more about how to stay healthy. "For me, it's been diet," she said. "That's the thing I've struggled with the most. It's challenging because in this situation I'm a patient, not a doctor."

With treatment and ongoing care from Dalal and the IBD specialists at the University of Chicago, Robinson's Crohn's disease now is in remission. Through the support group, she also has gained valuable insight into Crohn's disease that goes beyond the facts in medical textbooks. "There's no substitute for sharing the journey someone else has taken that's similar to your own," she said.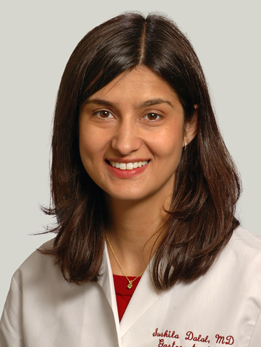 Sushila Dalal, MD
Gastroenterologist Dr. Sushila Dalal cares for patients with inflammatory bowel disease (Crohn's disease and ulcerative colitis). She is interested in the unique challenges that face women with IBD.
Read Dr. Dalal's physician profile
Inflammatory Bowel Disease Related Articles