Skip to content
Former Loyola basketball player takes aim at treating Crohn's disease
Nick DiNardi (second from right) plays defense for the Loyola Ramblers
Nick DiNardi, a research technologist at the University of Chicago Medicine, usually begins his work day at 7 a.m. He spends the morning with physicians who conduct colonoscopies and endoscopies, collecting tissue samples that will be studied in the lab of gastroenterology and immunology researcher Bana Jabri, MD, PhD. It's great on-the-job experience as he prepares to apply for medical school later this year, but it's quite a change from where he was last year.
DiNardi was a senior on the 2018 Loyola University Chicago men's basketball team that shocked the college basketball world when they made a surprise run to the Final Four semifinals of the National Collegiate Athletic Association (NCAA) annual tournament. The 11th-seeded Ramblers pulled off a string of upsets over Miami, Tennessee, Nevada and Kansas State before eventually losing to Michigan.
"It's a lot different pace than what I was doing last year," DiNardi said. "Watching the games definitely brings back nostalgia from when I was flying all over the country instead of spending my time in the lab."
After suffering a season-ending injury his senior year of high school, DiNardi thought his basketball career was over. He went to Loyola to focus on his studies, but he continued playing for the school's club team: a non-Division I intramural team that plays competitive games against other schools. The summer after DiNardi's sophomore year, one of the varsity coaches asked the 6-foot-7 player if he would like to practice against the team's big men. He eventually joined the team full-time as a walk-on during his junior and senior years.
But joining the team wasn't just a matter of getting back into playing shape. DiNardi also suffers from Crohn's disease, an inflammatory bowel disease that can cause abdominal pain, severe diarrhea, fatigue, anemia, weight loss and malnutrition. Originally diagnosed as a child, DiNardi learned to manage the disease as he grew up. But during his sophomore year, he suffered a new flare-up of symptoms.
It was the first time he had to deal with a flare-up on his own, away from home without his parents to help. As he researched Crohn's to figure out what medications to take and how to manage his diet, he decided to switch majors from business management to pre-med, so he could become a physician to help others with Crohn's one day.
"That made me decide I didn't want to be a businessman and sit behind a desk for the rest of my life," DiNardi said. "I wanted to be more active and help other people through my knowledge of science and my own experiences with Crohn's."
It turned out to be a momentous decision for both his professional and basketball careers. He started taking the prerequisite biology, chemistry and physics courses, which also meant he stayed on campus for the summer session when he was asked to join the basketball team.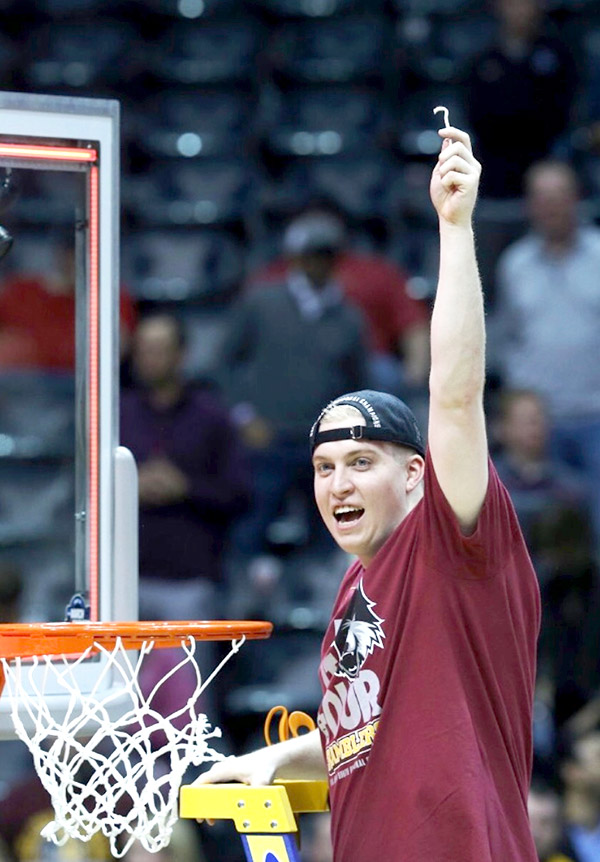 To help deal with the Crohn's flare-up and prepare for the pace of Division I basketball, he also worked with his IBD physician, Russell Cohen, MD, Director of the Inflammatory Bowel Disease Center at UChicago Medicine. Like many people with Crohn's, DiNardi has anemia, a condition in which the blood doesn't have enough healthy red blood cells to carry oxygen. This causes fatigue, so Cohen put DiNardi on iron supplements to treat the anemia and tweaked his regimen of IBD medications. The two stayed in regular communication to make sure he wasn't just coping with symptoms but felt on top of his game.
"That's one of the things I really cherish the most about the care I get here with Dr. Cohen," DiNardi said. "One of the things I've learned from him is when he asks patients how they feel, if they say 'normal,' he asks, 'Is it normal to you or normal to everybody else?' He says if the pain is bearable or you're just used to living with it, that's not okay by our standards."
"That's stayed with me because he's right," he said. "I shouldn't feel normal just to myself. I should feel as normal as everybody else feels."
DiNardi is interested in studying orthopedics or emergency medicine but said he's most likely to specialize in gastrointestinal medicine to help other people with Crohn's disease. When he was younger, he had a hard time explaining how much pain he was in to his doctors because they couldn't put themselves in his shoes. He says his experience has given him resiliency, and he wants to impart that on other kids like him so they can feel as normal as everybody else, too.
"When I was a kid, there were days when I felt terrible, but I still had to go to school. I still wanted to play sports and see my friends," he said. "Now when something goes wrong, I'm not in panic mode. I know it's going to be okay, and I want to help others with Crohn's disease feel that way, too."
Inflammatory Bowel Disease Center
Outstanding patient care is at the center of everything we do. Our world-renowned specialists not only continue to push boundaries with their leading-edge research but also integrate the latest therapies into their treatment plans to offer you the most advanced care available.
Learn more about our IBD Center
Digestive Diseases Related Articles