Skip to content
COVID-19 and kids: What parents should know about the vaccine
As the country rolls out the COVID-19 vaccine to additional populations, the vaccination for children is still in queue. Here is what you need to know about the COVID-19 vaccine for children, including clinical trials and when pharmaceutical manufacturers expect the vaccine to be available for children.
Can children be vaccinated?
The Pfizer-BioNTech vaccine has been approved for use in people ages 16 and up. However, younger people are not expected to be vaccinated until later in the nation's vaccination process.
Why can't kids get the COVID-19 vaccine?
The COVID-19 vaccines were not tested among children younger than 16 years old, so they are not yet proven to be safe and effective for children and an optimal dose has not been established. Pfizer began recruiting for a phase 3 clinical trial for participants aged 12 and over in July. That clinical trial is still open for participants who are 12 to 15 years old. Moderna began a clinical trial with participants ages 12 to 17 years in December and is working to enroll participants.
What is different about research methodologies when testing vaccines for children?
Because children are at different stages of development throughout adolescence, it's important to consider a number of factors when testing safety and efficacy, like the child's weight and dosage tolerability.
When will the vaccine be available for kids?
As the vaccinations are still in clinical trial phases, it's difficult to pinpoint a time when they will be available; however, Moderna and Pfizer are working to prepare vaccinations for the start of the 2021-22 school year.
Can grandparents visit with children after they get the COVID vaccine?
Fully vaccinated grandparents can visit indoors with their unvaccinated grandchildren without wearing masks or physically distancing. However, it is essential that all unvaccinated family members be at low risk for severe COVID-19 disease. It is also recommended to limit visitations to unvaccinated individuals to a single household.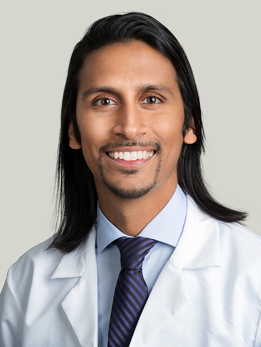 Madan Kumar, DO
Madan Kumar, DO, specializes in pediatric infectious diseases. Dr. Kumar is part of a collaborative, interdisciplinary service targets improving drug selection, slowing the emergence of antimicrobial resistance, reducing antibiotic expenditures, and improving patient outcomes at UChicago Medicine's Comer Children's Hospital.
Learn more about Dr. Kumar
Learn More About COVID-19 Health and Safety Concerns for Kids