Skip to content
Stronger together: A successful combination to treat advanced prostate cancer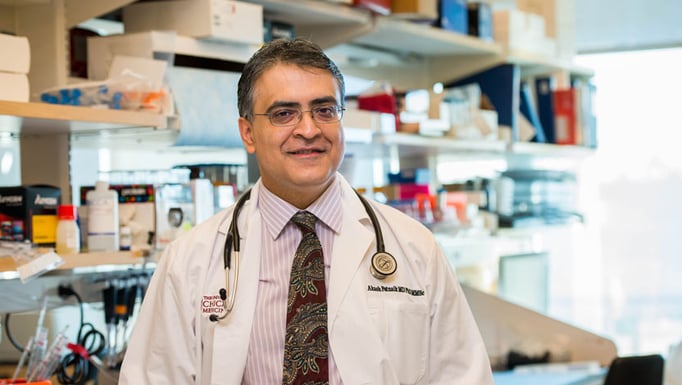 Akash Patnaik, MD, PhD, is an accomplished physician-scientist and national expert in prostate cancer research at the UChicago Medicine Comprehensive Cancer Center.
Most cases of prostate cancer are not fatal; however, prostate cancer that has spread and is not responding to standard hormonal treatments, known as metastatic castration-resistant prostate cancer (mCRPC), carries a poor prognosis.
Currently, researchers are looking for new ways to address this longstanding treatment challenge by testing novel therapeutic options, including cancer therapies that identify and attack specific types of cancer cells. One such drug is cabozantinib, a drug that blocks certain proteins that drive the rapid increase and survival of cancer cells, thus inhibiting the growth of the tumor. It may also prevent angiogenesis, the growth of new blood vessels that tumors need to grow.
This new drug was tested on advanced prostate cancer through a large, phase III clinical trial, named COMET-1. The trial was halted in 2014 when early results showed the drug did not extend survival in a heavily pre-treated mCRPC patient population.
Renewed Hope
The results of that study were puzzling to Akash Patnaik, MD, PhD, an accomplished physician-scientist and national expert in prostate cancer research at the UChicago Medicine Comprehensive Cancer Center. The Comprehensive Cancer Center is a major center for conducting prostate cancer research through the National Cancer Institute and private sponsors.
Patnaik focuses on translating novel therapies from the laboratory to early-stage clinical trials. He was curious about why cabozantinib showed promising activity in a phase II trial of patients with mCRPC, but did not extend survival in a larger phase III trial. He reasoned that a better understanding of the drug's mechanism of action and its impact on the unique immune environment within the tumor would help identify patients who may respond to it.
At that point, Patnaik's laboratory began studying cabozantinib's effects in a laboratory model of advanced prostate cancer. Patnaik's team observed that cabozantinib- stimulated tumor cells released immune cell trafficking molecules called chemokines. These proteins send out a signal to attract neutrophils, a type of white blood cell that helps heal damaged tissues and resolve infections. This resulted in neutrophils swarming into the tumor and clearing out cancer cells.
The study results were published in Cancer Discovery in 2017.
"We were excited to have more evidence supporting how cabozantinib has powerful effects against metastatic prostate cancer," said Patnaik. "But this was only the beginning because we still needed to figure out how this applies to humans and what other drugs were needed to induce a powerful immune response."
A Winning Combination
The published work generated in Patnaik's lab opened the door to investigating 16 combination trials with cabozantinib and immunotherapy drugs in multiple advanced solid tumors. At a scientific meeting in February 2020, researchers shared exciting results from a trial that tested cabozantinib in combination with the drug atezolizumab in patients with mCRPC, as part of a larger study called COSMIC-021.
The study cohort included 44 patients, who were followed for a median of 12.6 months. The results showed that 32% of the patients experienced an overall response on the treatment, including two who had complete responses and 12 who had partial responses. For 80% of the patients, their disease was controlled during the study period.
"It's gratifying to see that our laboratory discovery demonstrating cabozantinib's innate immune anti-cancer mechanism is holding true in patients," said Patnaik.
Next Steps
These promising, newly emerging clinical data set the stage for phase III trials involving this drug combination. The unprecedented speed at which progress is being made continues. As early as 2021, the drug manufacturer plans to collect enough positive supporting clinical data to apply for accelerated FDA approval for treatment of metastatic CRPC.
It all started with the discovery of cabozantinib's immune mechanism in the laboratory, paving the way for the drug's resurrection and redemption.
"The fact that a mechanistic discovery made in the laboratory in 2017 led to a clinical trial reporting positive results in 2020 is an incredibly rapid drug development timeline, a prime example of how bench-to-bedside research is able to generate promising new treatments," Patnaik said. "We hope this strategy will alleviate suffering and improve survival for our patients with aggressive mCRPC."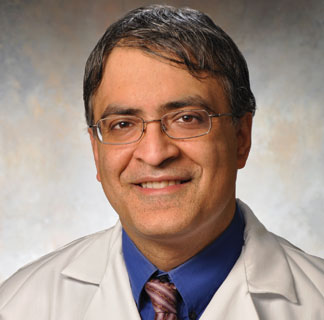 Akash Patnaik, MD, PhD, MMSc
Akash Patnaik, MD, PhD, MMSc, is a medical oncologist specializing in the care of patients with genitourinary cancers, including prostate, bladder, kidney and testicular cancers. He also has a strong interest in the development of novel therapeutics for treatment of advanced solid tumors.
Read Dr. Patnaik's physician bio
Prostate Cancer Related Articles