Skip to content
Students gain experience working side-by-side with cancer researchers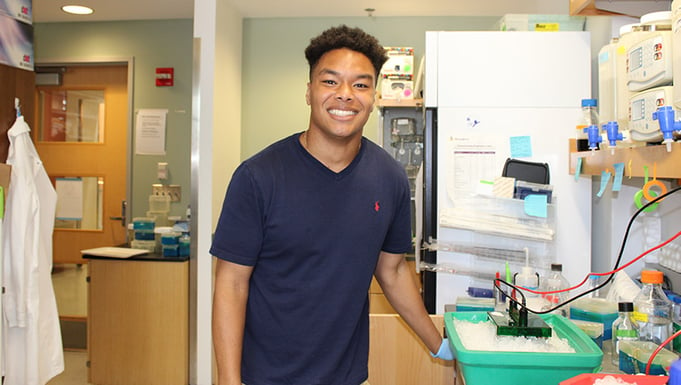 Blake McBeth was inspired to pursue research with Chicago EYES on Cancer by his grandmother, who is a five-time cancer survivor and a participant in clinical trials for new cancer treatments.
Each summer, the UChicago Medicine Comprehensive Cancer Center opens its doors to the next generation of clinicians and scientists. The programs, Chicago EYES (Educators and Youth Enjoy Science) on Cancer and researcHStart, partner high school students and undergraduates with research faculty to conduct cancer research.
For eight weeks, participants immerse themselves in hands-on cancer research, broaden their awareness of related career paths and build a mentoring network with active members of the scientific community.
The goal is to inspire and empower young people to pursue health- and science-related careers. Many participants are from communities underrepresented in the sciences or the first in their family to go to college.
Setting up for success
Recent growth of the programs has created opportunities for young people to explore the full spectrum of cancer research, from basic science to translational, clinical and population-based studies. In addition to full-time research experience, participants attend cancer-based faculty lecture series, career development and skill-building workshops, and community outreach activities.
ResearcHStart participant Bridgette Garnache, a recent graduate of Wheaton Warrenville South High School, joined the research team of Stacy Tessler Lindau, MD, MAPP, professor of obstetrics and gynecology and medicine-geriatrics at UChicago Medicine. Garnache's project assessed unmet social and economic needs of cancer patients through surveys conducted in the hospital.
"I've always been fascinated by science, but prior to this summer, I had virtually no research experience," said Garnache. "I joined researcHStart because I thought it would be a great opportunity for me to apply the concepts I learned in school and gain insight into the professional world of science."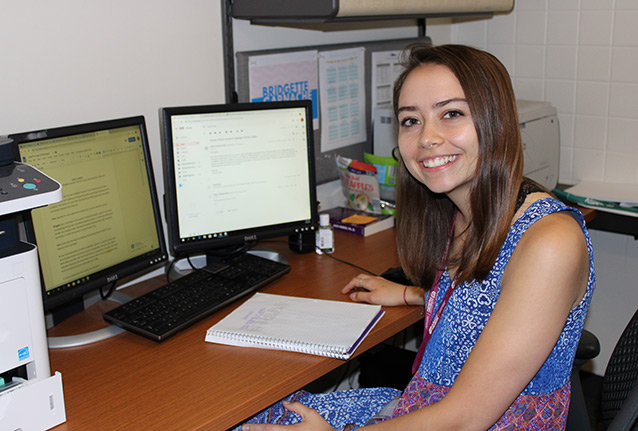 The best of both worlds
Blake McBeth is a third-year student at the University of Chicago. He was inspired to pursue research with Chicago EYES on Cancer by his grandmother, who is a five-time cancer survivor and a participant in clinical trials for new cancer treatments. "My grandmother is a warrior and my inspiration. Without people doing research, I'm not sure my grandma would be here today," McBeth said.
Now months after his official participation in EYES, McBeth continues to work with Lev Becker, PhD, associate professor in the Ben May Department for Cancer Research, to understand how fatty acids can transform macrophages―immune cells that are the first line of defense against foreign viruses, bacteria or other invaders―into cells that can attack cancer.
"I originally thought I wanted to go to medical school and only work with patients," said McBeth. "Then EYES on Cancer brought in a guest oncology surgeon, and he said that it's okay to be a doctor, but the problems with cancer don't stop at being a surgeon." That talk inspired McBeth to aim for a combined doctorate of medicine and philosophy (MD/PhD) after graduation.
The value of networking
Both Chicago EYES on Cancer and researcHStart center around mentorship, linking students with a UChicago faculty mentor and other research team members, such as graduate students and laboratory staff. This mentorship enables students to establish a network of support as they embark on the next stage of their careers.
"The mentors in EYES on Cancer answer all sorts of question that range from science to career options, so that students like myself are never feeling lost and unsure of who to ask for help," said McBeth.
Chicago EYES on Cancer and researcHStart participants are not the only ones to benefit from the mentorship focus of the programs. In their role as research supervisors, graduate students and other research personnel embrace the opportunity to develop leadership and mentoring skills.
As a result, each summer student's experience is enriched by developing relationships with many members of the scientific community that not only help them succeed in the programs, but also provide a long-term support system for future scientific endeavors.
"On top of gaining knowledge and experience, we also get to learn from and help each other. This creates a distinct collaborative environment that is unique to the UChicago programs," said Garnache. Similar to McBeth, Garnache's career path was positively affected by the program. She plans to pursue medically-related research, particularly around community engagement, as an undergraduate at Emory University in Atlanta.
Through immersion with the academic research community and and mentorship from prominent cancer researchers, these programs are vital to inspiring students to make cancer research a part of their future careers.
Applications for the 2020 cohorts for researcHStart and Chicago EYES on Cancer are now open.
Funding for Chicago EYES on Cancer is provided by the National Cancer Institute (NCI) through the R25 YES (Youth Enjoys Science) grant. The researcHStart program is funded through UChicago philanthropy. Partner institutions for researcHStart include the University of Illinois at Urbana-Champaign, the University of Illinois at Chicago, Northwestern University and Rush University.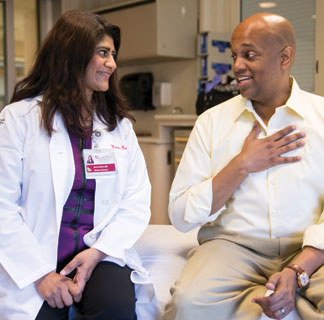 UChicago Medicine Comprehensive Cancer Center
UChicago Medicine is designated as a Comprehensive Cancer Center by the National Cancer Institute, the most prestigious recognition possible for a cancer institution. We have more than 200 physicians and scientists dedicated to defeating cancer.
Learn More About the Comprehensive Cancer Center