Skip to content
Northwest Indiana woman able to get treatment close to home for her rare, aggressive uterine cancer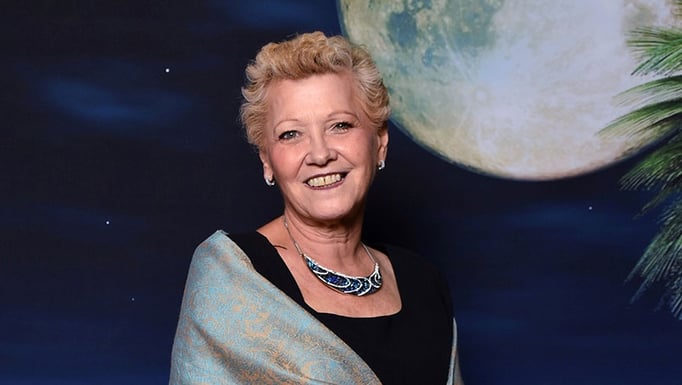 Brenda Dohman recalls the stress she felt after undergoing radiation therapy for a rare, aggressive type of uterine cancer in 2020. When she shared this with University of Chicago Medicine radiation oncologist Yasmin Hasan, MD, the physician had a simple message for her.
"We treated your cancer very aggressively, so keep living your life," Hasan told her.
More than two years later, that's exactly what Dohman is doing. She's visited 10 countries since her treatment, including Spain, Italy, Germany, Austria and England, and she's determined to not let endometrial cancer slow her down.
"I really appreciate that they treated me so aggressively," said the retired continuing medical education administrator.
Dohman was diagnosed in August 2020 after a Pap smear revealed abnormalities in her endometrium, the inner lining of the uterus (This, in itself, was fortunate: Pap smears are designed to detect cervical cancer, not necessarily endometrial cancer). After her gynecologist found evidence of cancer cells in a follow-up biopsy and ultrasound, she was referred to the UChicago Medicine for endometrial cancer treatment.
The added bonus was being able to go to UChicago Medicine Schererville for some of my appointments to receive quality care close to home.
That's when she switched into research mode, Dohman says, studying physician biographies and other online information before choosing gynecologic oncologist Katherine Kurnit, MD, MPH.
"The added bonus was being able to go to UChicago Medicine Schererville for some of my appointments to receive quality care close to home," said Dohman, who lives in Northwest Indiana.
Most endometrial cancer in the United States is low-grade and diagnosed early, so patients can be treated with surgery or surgery and limited radiation. Because Dohman had high-grade endometrial carcinosarcoma, her doctors recommended surgery, chemotherapy and comprehensive radiation.
"Patients with higher risk cancer like carcinosarcomas, or whose cancer has spread, end up receiving several different therapies," said Kurnit.
To perform Dohman's minimally invasive surgery, Kurnit used a da Vinci robot to remove her ovaries, uterus, fallopian tubes and cervix (a total hysterectomy with salpingo-oophorectomy). She also removed lymph nodes, including some near Dohman's aorta, that were found to contain cancerous cells.
Then, in October 2020, Dohman started six cycles of carboplatin and paclitaxel infusions spaced out every three weeks at UChicago Medicine Orland Park. This is a standard chemotherapy for both women with endometrial cancer and women with ovarian cancer.
"It can cause a substantial number of side effects, including nausea and vomiting, low blood counts and neuropathy, which is numbness and tingling of the hands and feet," said medical oncologist Gini Fleming, MD. "Ms. Dohman managed it very well."
Throughout this time, Dohman stayed strong in her faith. Her husband Harry attended every appointment, and her two sisters helped by researching treatment questions online. Dohman made sure to prioritize healthy eating and walking three to four miles a day – even in the cold. She did, however, give herself a little leeway.
"On chemo days, sometimes I only walked about a mile," she said.
Following the chemotherapy and extensive discussions with her doctors, Dohman decided to have both external and internal radiation to reduce the chance of the cancer returning in her pelvis.
"This was a specific strategy, with the goal of mopping up any cancer cells that might be left over after the patient goes through surgery and chemotherapy," said Hasan.
The strategy was successful. Dohman has been cancer-free since April 2020 and is busy keeping up with family, friends and traveling. She recently visited Paris with her daughter, Michelle.
Kurnit commends her patient for taking survivorship seriously.
"It's such an important part of cancer care to get patients through treatments so that they can get back to living the life they want to live," said Kurnit. "I think she really is a kind of figurehead for this approach to cancer care."
Convenient Locations for Gynecologic Oncology Care
Request an Appointment for Cancer Care
The information you provide in this form will enable us to assist you as efficiently as possible. A representative will contact you within one to two business days to help you schedule an appointment.
For your convenience, you can make a virtual visit appointment with a cancer expert in the following ways:
– Schedule a virtual video visit to see a provider from the comfort of your home
– Request an online second opinion from our specialists
To speak to someone directly, please call 1-773-702-6118. If you have symptoms of an urgent nature, please call your doctor or go to the emergency room immediately.
For Referring Physicians
To refer a patient for cancer care, please call UCM Physician Connect at 1-800-824-2282.
Gynecologic Cancer Related Articles