Skip to content
Baby's personality helps him battle cancer in big and little ways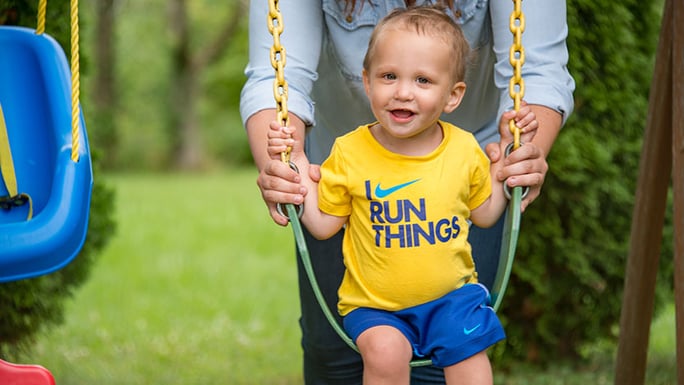 Comer Children's Hospital patient Lincoln Maxberry plays on a swing at home. He's in remission with no evidence of leukemia.
From the day he was born in December 2016, Lincoln Maxberry could melt anyone's heart with his exuberance, twinkling eyes and dimpled laughter.
His energy matched his personality, so a bruise or two didn't seem too concerning. But when the bruising came too easily, and the nosebleeds started, Anthony and Angela Maxberry took their son to the pediatrician.
Soon, they received a frightening call: Lincoln's white blood cell count was incredibly high, most likely due to leukemia. The couple brought him to Comer Children's Hospital emergency department at the University of Chicago Medicine that night, and he was admitted to the pediatric intensive care unit. By the next morning, the diagnosis was confirmed.
Their son, a year old at the time, had high-risk acute lymphoblastic leukemia (ALL). ALL, the most common type of childhood cancer, is a cancer of the blood cells, which are made in the bone marrow. The leukemia cells crowd out healthy blood cells, leading to bleeding, bruising, anemia and infections.
"Anthony had a very emotional response to the diagnosis — a lot of tears," said Angela. "I felt very numb, so there were no tears."
Pediatric oncologist Jennifer McNeer, MD, reassured them. Because young boys with ALL are at higher risk of relapse than girls, the standard treatment is three years of chemotherapy. McNeer was optimistic Lincoln would be cured.
Still, watching their son go through cancer treatment has been "excruciating at times" for the family.
"I can't imagine what Lincoln must feel every day with chemotherapy and not being himself," his mom said. "And I'm sure he's nauseated all the time, but he can't tell us. We feel somewhat helpless."
But true to form, Lincoln has remained upbeat throughout treatment. His attitude and energy have even lifted the spirits of his Comer Children's care team.
"Lincoln flirts with everybody he meets," McNeer said with a smile. "Needing to keep him in his room for chemotherapy has been a challenge because he wants to be on the move. He wants to be out and about socializing."
Lincoln's diagnosis has brought the Maxberry family closer, with his sister, Miah, and brother, Gage, stepping up to help with his care and the chores. And their parents couldn't be prouder of them and their selflessness.
The Comer Children's staff is like family now.
"You're spread very thin as a parent because they're no less important than he is," Angela said. "They are the best big siblings, and I'm very thankful for the two of them. They're very understanding and very compassionate."
Now almost 2, Lincoln is in remission — with no evidence of leukemia. Between his family and his care team, he has the support needed to overcome cancer. "And with his spirit," McNeer added, "he's up for the challenge."
Meanwhile, the Maxberry family has developed a strong bond with the nurses and doctors who care for Lincoln.
"We know each other very well," said Angela. "The Comer Children's staff is like family now."
Cancer Can't Compete
Cancer survivor Anthony Rizzo is teaming up with the Chicago Tribune, along with the Anthony Rizzo Family Foundation, Mariano's and the University of Chicago Medicine, in a campaign to raise money for cancer research and support for families as they fight cancer together.
Cancer Can't Compete