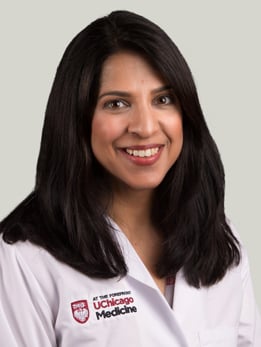 Hospital Medicine | More
Herbert T. Abelson Professor of Medicine Assistant Dean for Scholarship and Discovery
Associate Chief, Medical Officer for Clinical Learning Environment
UChicago Faculty Physicians hold faculty positions with the University of Chicago and provide care for patients on the academic health system's main campus in Hyde Park and in care centers throughout the Chicago region.
Close
888-824-0200
Vineet Arora, MD, MAPP, is an academic hospitalist who specializes in improving the learning environment for medical trainees and the quality, safety and experience of care delivered to hospitalized adults. She is an internationally recognized expert on patient handoffs in health care and also has extensive expertise using technology such as social media to improve the workplace learning in teaching hospitals on a variety of topics. Her educational videos on handoffs, supervision, professionalism and costs of care have been used by numerous educators around the country and have been featured on NPR and in the New York Times.
Through her leadership roles, Dr. Arora enables incoming medical students to participate in longitudinal mentored scholarly projects. She also is working to ensure residents from all specialties are integrated into hospital quality initiatives.
An accomplished researcher, Dr. Arora has served as the principal investigator of numerous federal and foundation research grants. Most notably, Dr. Arora has developed tools to evaluate handoff quality among hospitalists and residents. She also is investigating the effect of sleep loss on hospitalized patients and working to create novel interventions to optimize patient experience in hospitals through workplace learning and systems change. Through R-01 funding, Dr. Arora is studying the impact of a novel social media intervention to boost interest of minority youth into medical research careers. Dr. Arora's work has been funded by the Agency for Healthcare Research & Quality, the National Institutes on Aging and the American Sleep Medicine Foundation.
Dr. Arora's academic work has resulted in dozens of peer-reviewed publications and has been recognized with awards from the Society of Hospital Medicine, Society of General Internal Medicine, Association of Program Directors of Internal Medicine, and the Association of American Medical Colleges. She has also testified to Congress on the primary care crisis as well as to the Institute of Medicine on residency duty hours and handoffs. For her work, she was been recognized as ACP Hospitalist Magazine's Top Hospitalist in 2009, one of "20 People Who Make Healthcare Better" by HealthLeaders Magazine in 2011, and as a Master to the Academy of Distinguished Medical Educators at the University of Chicago.