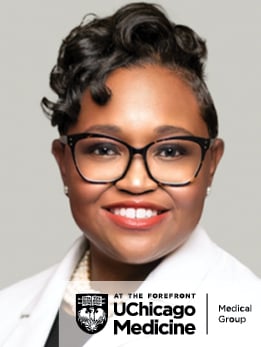 Family Medicine, Primary Care | More
Clinical Associate of Family Medicine
UChicago Medicine Medical Group is comprised of UCM Care Network Medical Group, Inc. and Primary Healthcare Associates, S.C. UChicago Medicine Medical Group physicians are not employees or agents of The University of Chicago Medical Center, The University of Chicago or UChicago Medicine Ingalls Memorial.
Close
773-702-6840
Shelley Sandiford, MD, is a board-certified physician who specializes in
family medicine
. She is committed to delivering holistic care to men, woman and children of all ages, and she creates care plans that meet each individual patient's needs and health goals.
Dr. Sandiford is determined to help her patients maintain their health. She offers preventive care, which not only includes regular check-ups, immunizations and screenings, but she also works with her patients to detect and/or avoid injury, illness and other medical conditions before they become serious.
In addition to treating common conditions, Dr. Sandiford manages chronic illnesses including hypertension diabetes and asthma. Her aim is to work with patients to avoid complications and achieve their best health. Dr. Sandiford views health care as a team approach involving both the physician and the patient, and she takes pride in assisting her patients achieve healthy lives.