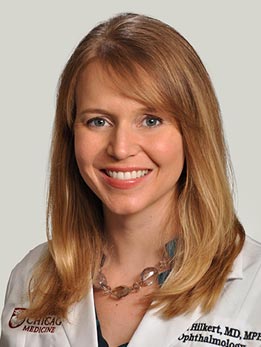 Ophthalmology, Pediatric Ophthalmology | More
Associate Professor of Ophthalmology and Visual Science
UChicago Faculty Physicians hold faculty positions with the University of Chicago and provide care for patients on the academic health system's main campus in Hyde Park and in care centers throughout the Chicago region.
Close
773-702-3937
Sarah Rodriguez, MD, MPH, provides comprehensive, compassionate care to children with decreased vision in one or both eyes. Dr. Rodriguez has a special interest in treating conditions caused by abnormal eye development, such as amblyopia (lazy eye), strabismus (misalignment of the eyes), and pediatric cataracts.
Dr. Rodriguez is not only passionate about delivering high-quality care to her patients, but she is also dedicated to resident education and clinical research. Most of her research focuses on retinopathy of prematurity (ROP), and she recently received a grant from the Knights Templar Eye Foundation to study neurodevelopmental outcomes among infants screened for ROP. Having participated in medical mission trips to Ghana and Nicaragua, she also has an interest in health disparities and global health. Dr. Rodriguez's research has been published in a number of scientific journals, including
JAAPOS, Survey of Ophthalmology
, and
Ophthalmic Genetics.