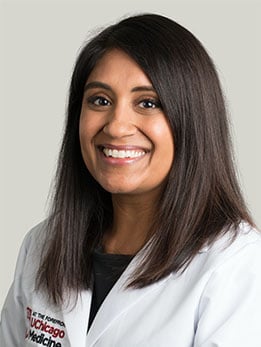 Pediatric Allergy & Immunology | More
Assistant Professor of Pediatrics
UChicago Faculty Physicians hold faculty positions with the University of Chicago and provide care for patients on the academic health system's main campus in Hyde Park and in care centers throughout the Chicago region.
Close
773-702-6169
Ruchi Singla, MD, specializes in diagnosing and treating allergies and immune disorders in children and adults of all ages. Dr. Singla provides compassionate, comprehensive care for patients with food and drug allergies, chronic urticaria (hives) and allergic rhinitis. She also has expertise in eosinophilic esophagitis, a chronic allergic inflammatory condition affecting the esophagus, typically caused by a food trigger.
Dr. Singla is dedicated to patient education and helping underserved populations. She is committed to learning the most up-to-date techniques and treatments to better her patients' lives.