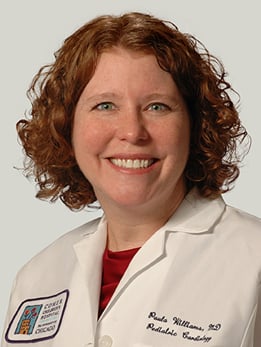 Assistant Professor of Pediatrics
Director, Fetal Cardiology
A clinically integrated network of physicians and providers employed by UChicago Medicine who offer care in inpatient, community, ambulatory, acute care or extended care settings.
Close
773-702-9461
A cardiologist, Paula E. Williams, MD, MS, provides care for infants, children and adolescents with congenital and acquired heart conditions, including structural heart disease, and heart failure. She evaluates fetal heart structures and fetal arrhythmias (irregular heartbeats, too fast or slow).
Dr. Williams specializes in non-invasive cardiac imaging techniques -- such as echocardiograms. She also has a particular interest in evaluation of the fetal heart using echocardiography.
In addition to her clinical roles, Dr. Williams is a dedicated educator, teaching medical students and residents about cardiology and toxicology.