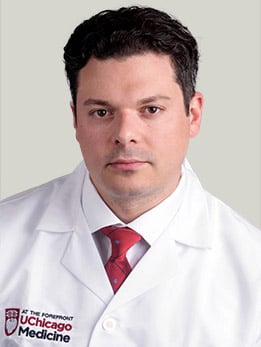 Clinical Associate of Surgery
UChicago Faculty Physicians hold faculty positions with the University of Chicago and provide care for patients on the academic health system's main campus in Hyde Park and in care centers throughout the Chicago region.
Close
847-548-4200
Michael S. Stosich, DMD, MS, MS, is a renowned orthodontist with subspecialty expertise in craniofacial orthodontics and robotically assisted orthodontics. Dr. Stosich serves as the cleft lip and palate team orthodontist and craniofacial orthodontist in Craniofacial Anomalies Multidisciplinary Program, which treats complex pediatric craniofacial anomalies such as craniosynostosis.
Dr. Stosich has built a large, well-respected clinical practice that encompasses all aspects of orthodontics for children and adults. Additionally, he has developed expertise in robotically assisted orthodontics.
Dr. Stosich is also an active craniofacial researcher and educator, having spent seven years at top research universities where he performed studies on how to move teeth more efficiently through bone, leading to published works on important advancements in treating orthodontic patients. As a result of his academic work, Dr. Stosich has been asked to lecture at numerous annual meetings throughout the U.S. and overseas. His achievements were also awarded by the National Institute of Health, which endowed grants toward future study. He continues this work at the University of Chicago.