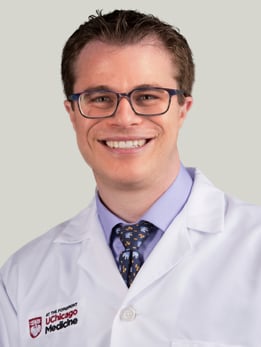 Mark Applebaum, MD, is an expert in pediatric cancers and blood diseases. He has a special interest in the treatment of neuroblastoma, sarcomas and solid tumors.
Dr. Applebaum is actively researching several aspects of neuroblastoma and pediatric solid tumors. His research harnesses the power of large genomic data sets in pediatric oncology to develop new "cancer-specific" targeted strategies that will ultimately improve outcomes while minimizing risk.
Dr. Applebaum also focuses his research on how the low-oxygen environment of tumors makes cancer cells more resistant to standard therapies. Identifying the genes and cellular pathways responsible for making cancer more aggressive in these conditions may ultimately open new avenues for novel therapeutic options.
Dr. Applebaum's research is supported in part by the University of Chicago Cancer Research Foundation Auxiliary Board. Additionally, he is the recipient of numerous awards, including the Brigid Leventhal Merit Award from the Conquer Cancer Foundation, the Bear Necessities Foundation Young Investigator Award, and the AACR-Aflac Inc. Scholar-in-Training award.