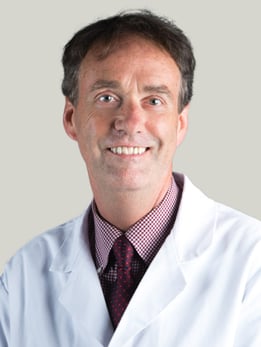 Professor of Ophthalmology and Visual Science Vice Chair, Clinical Operations
Medical Director, Ophthalmology Outpatient Center
UChicago Faculty Physicians hold faculty positions with the University of Chicago and provide care for patients on the academic health system's main campus in Hyde Park and in care centers throughout the Chicago region.
Close
773-702-3937
Widely respected ophthalmologist, James J. Reidy, MD, FACS, is a leading expert in the diagnosis and treatment of cornea and external eye disease. Dr. Reidy specializes in caring for patients with diseases of the cornea, corneal infections, cataracts and more.
Dr. Reidy offers a new, FDA-approved outpatient procedure called corneal cross-linking. This procedure helps prevent the progression of keratoconus, a degenerative eye condition in which the normally round, dome-like cornea — the clear front window of the eye — become thin and develop a cone-like bulge. Corneal cross-linking is an alternative treatment to corneal transplant, a more invasive procedure.
Dr. Reidy's commitment to research has lead to a better understanding of treatment procedures for cornea disease. He is investigating the use of stem cells in ocular surface reconstruction and the implementation of the Boston Keratoprosthesis (artificial cornea) for high-risk keratoplasty patients. As part of his determination in finding the best treatment for his patients, Dr. Reidy developed a treatment algorithm for recurrent corneal erosion syndrome.
Along with his clinical and research pursuits, Dr. Reidy is a dedicated educator. He makes time to engage with medical students, residents and fellows, teaching them a wide range of clinical and surgical techniques to expand their knowledge on ophthalmology best practices.