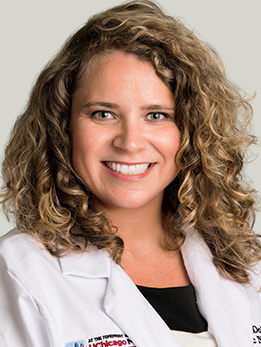 Assistant Professor of Pediatrics
UChicago Faculty Physicians hold faculty positions with the University of Chicago and provide care for patients on the academic health system's main campus in Hyde Park and in care centers throughout the Chicago region.
Close
773-702-6169
Emily Doll, MD, is a highly skilled pediatric neurologist who specializes in childhood epilepsy. Dr. Doll is committed to providing her patients and their families with comprehensive, multidisciplinary care for epilepsy. She offers a full range of epilepsy treatment, including medications, dietary control, vagus nerve stimulation and surgery. Additionally, Dr. Doll also diagnoses and treats children with autism spectrum disorder (ASD) and works with her patients to find the right solutions for each individual child.
Along with her devotion to her patients, Dr. Doll is also a physician-scientist who conducts clinical research to improve care for epilepsy and autism spectrum disorders. Her research has been published in several peer-viewed journals, including Epilepsy, Journal of Pediatric Neurology and Journal of Developmental & Behavioral Pediatric.