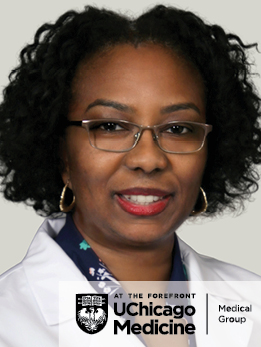 UChicago Medicine Medical Group is comprised of UCM Care Network Medical Group, Inc. and Primary Healthcare Associates, S.C. UChicago Medicine Medical Group physicians are not employees or agents of The University of Chicago Medical Center, The University of Chicago or UChicago Medicine Ingalls Memorial.
Close
708-915-8700
Ebony Johnson, MD, MHA, provides the full spectrum of medical care to all ages and engages a diverse group of patients with her personal work ethic and community bonds.
Some of Dr. Johnson's special clinical interests include asthma, COPD and women's health. Of particular interest is adolescent medicine and the unique health issues related to this, including medical, social and sexual health advice and treatment. She attributes her interest in family medicine to her upbringing in a large, close family, and makes it a priority to know her patients, not just their ailments.
A former college athlete and athletic trainer, she remains active in volunteer work with first generation college students. She enjoys all sports, but in particular, running, cycling and weight training.
UCM Medical Group physicians with privileges at the hospital are independent physicians. They are not employees or agents of the University of Chicago Medical Center or Ingalls Memorial.