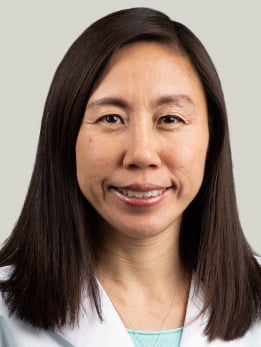 Radiology, Neuroradiology, Pediatric Neuroradiology | More
Associate Professor of Radiology
UChicago Faculty Physicians hold faculty positions with the University of Chicago and provide care for patients on the academic health system's main campus in Hyde Park and in care centers throughout the Chicago region.
Close
888-824-0200
A board-certified radiologist/neuroradiologist, Carina Yang, MD, specializes in pediatric neuroradiology with a focus on diagnosing and characterizing the full scope of head, brain, spine and neck conditions. Dr. Yang is an expert in interpretation of computerized tomography (CT) and magnetic resonance (MR) examinations, and promotes techniques for pediatric patients to minimize radiation exposure and performing testing without the need for extended sedation.
Dr. Yang's devotion to educating medical students, residents, fellows and radiologists has enhanced our radiology department. She instituted a simulation program designed to prevent knowledge gaps with interactive educational tools that improve radiologists' clinical skills and increase retention in the diagnosis and management of contrast reactions.
She also has great interest in promoting neuroradiology education to trainees and practicing radiologists on a global arena, with past visiting professorships to locations such as Newfoundland, Canada, Hong Kong, as well as Gwalior and New Delhi, India. As the selected 2019 Anne G. Osborn American Society of North America International Outreach Professor to Ethiopia, she will continue to further her worldwide educational endeavors.