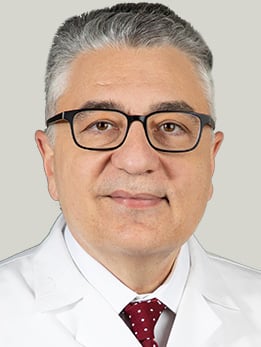 Professor of Radiology and Surgery Chair, Department of Radiology
Chief Physician, Head of the Faculty Practice Plan and Dean for Clinical Affairs
UChicago Faculty Physicians hold faculty positions with the University of Chicago and provide care for patients on the academic health system's main campus in Hyde Park and in care centers throughout the Chicago region.
Close
888-824-0200
Aytekin Oto, MD, MBA, is an expert in abdominal radiology -- imaging of the liver, pancreas, prostate and bowel. Working with colleagues in medical and surgical subspecialties, he provides optimized patient care for adults with abdominal and pelvic disorders. He has a special interest in imaging of the prostate, magnetic resonance (MR) guided biopsies and MR guided focal therapy.
Dr. Oto is active in clinical research. He has several NIH, federal and industry sponsored research grants focusing on advanced MR techniques for improved prostate cancer diagnosis, MRI-guided prostate cancer ablation and MR-guided high frequency ultrasound ablation of uterine fibroids.
Dr. Oto has given more than 120 presentations and lectures at scientific meetings around the world. An accomplished author, he has published more than 120 articles and has authored numerous book chapters. He also serves as a reviewer for the National Institutes of Health (NIH) and several journals, and on the editorial board of the
World Journal of Radiology
. Dr. Oto is the recipient of many awards and distinctions for his teaching, research and clinical work.