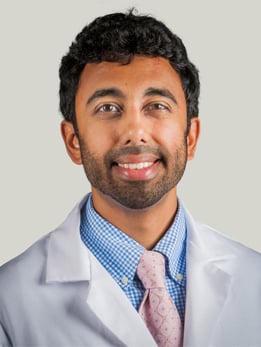 Associate Professor of Ophthalmology and Visual Science
UChicago Faculty Physicians hold faculty positions with the University of Chicago and provide care for patients on the academic health system's main campus in Hyde Park and in care centers throughout the Chicago region.
Close
773-702-3937
Highly skilled ophthalmologist, Asim V. Farooq, MD, provides comprehensive care for a wide range of eye conditions, including cataract surgery, corneal transplantation surgery and correcting common vision disorders (nearsightedness, farsightedness and astigmatism) using refractive surgery. Dr. Farooq has a particular expertise in diagnosing and treating patients with cornea and external eye disease, such as cornea infections and ocular herpes.
Dr. Farooq's dedication to his patients extends beyond direct patient care and into his research efforts. He continues to study the latest techniques for treating eye disease in order to identify the best management strategies for his patients. Dr. Farooq's research has been published in a number of scientific journals, including
Cornea, Investigative Ophthalmology and Visual Science
and
JAMA Ophthalmology
.