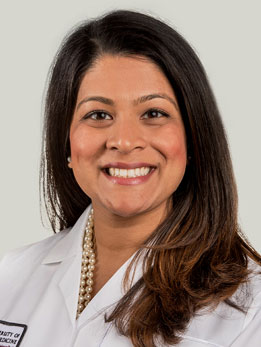 Ami Desai, MD, MSCE, provides dedicated, compassionate care to children who have been diagnosed with cancer and blood diseases, with a focus on solid tumors such as neuroblastoma and sarcomas. Dr. Desai has a particular interest in investigating and developing novel treatments for childhood cancers.
Along with her clinical expertise, Dr. Desai is also using pharmacology and biomarker data to explore new therapies for solid tumors.. Through this research, she is examining how the body reacts to drug treatments in order to reduce toxicity, improve patient response to medication and enhance overall health and outcomes. Dr. Desai has served as the lead investigator in multiple research studies and her work has been published in peer-review journals such as:
Pediatric Blood and Cancer
,
Cancer Chemotherapy Pharmacology
and the
Bone Marrow Transplantation
.