Orthopaedic Surgeons Strengthen Your Bone Health
The highly skilled orthopaedic surgery team at the University of Chicago Medicine has the experience and advanced treatment options needed for fragility fractures and bone health. We understand that osteoporosis — the weakening of the bones due to loss of bone mass and tissue damage — puts older patients at risk for bone breaks. Fragility fractures — broken bones related to osteoporosis — affect more than 2 million individuals over age 50 in the U.S. each year. Yet, less than 20 percent of these patients receive appropriate evaluation and treatment for their underlying disease. We work with patients to identify any bone issues and decide what treatment options would be best for their care.
Education, Evaluation & Treatment for Fragility Fractures
The orthopaedic surgeons at UChicago Medicine are working to raise awareness about the increasing prevalence of osteoporosis and the consequences of bone loss.
"Fragility fractures are three times more common than heart attacks," explained orthopaedic surgeon and bone health expert Douglas R. Dirschl, MD. "This is a huge and under-recognized public health issue." As president of the American Orthopaedic Association (AOA), Dirschl was instrumental in developing the organization's "Own the Bone"™ campaign, a national program designed to bring attention to the increasing prevalence of osteoporosis and the consequences of bone loss.
In addition to treating a fragility fracture, our orthopaedic team evaluates its cause and educates the patient on how to minimize future bone loss to reduce the risk of additional fractures. Bone health and fragility care at UChicago Medicine follows guidelines that were developed by the National Osteoporosis Foundation and incorporated into AOA's Own the Bone™ campaign.
Bone Health Clinic
Clinical care providers at UChicago Medicine's Bone Health Clinic work to identify, evaluate and treat patients with osteoporosis or low bone density related fractures. They provide education and innovative treatment options to reduce the risk of additional fractures.
Bone Health Clinic services include:
Blood work
Bone density scans, called dual-energy X-ray absorptiometry (DEXA)
Fracture risk assessments
Patient-specific treatment plans to promote bone health and reduce fracture risks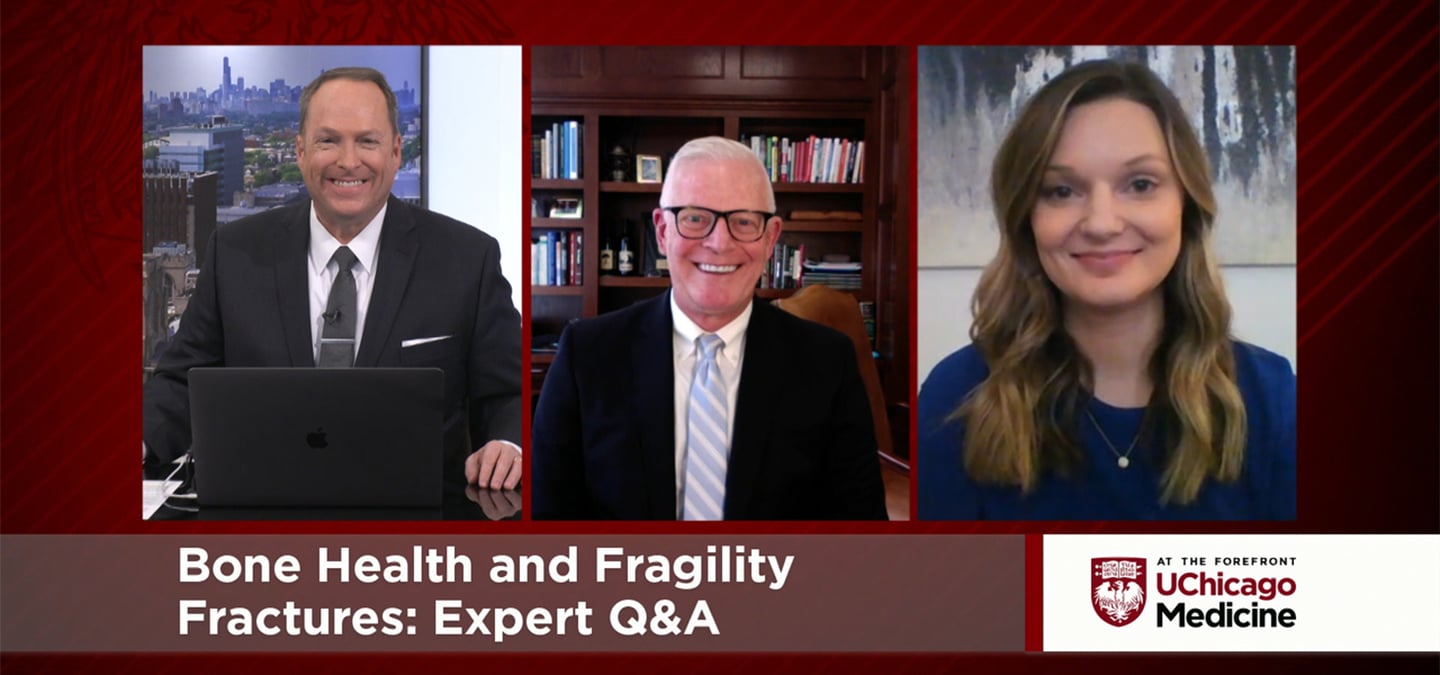 Telemedicine at UChicago Medicine

Schedule a Video Visit
Save time by skipping the trip to the doctor's office and video conference with your provider instead. Video visits are a secure, quick, and convenient way to connect with your doctor and other members of your care team.

Get a Second Opinion Online
Whether you are facing a complex health issue or difficult treatment decision, getting a second opinion can help you make an informed decision about your care. Get an online second opinion from one of our experts without having to leave home.

Submit an E-Visit
Complete an online questionnaire (e-visit) through your MyChart account to get a same-day diagnosis and a treatment plan from UChicago Medicine clinicians for common conditions.
Meet Our Bone Fragility Team
Orthopaedic Related Articles