Making the Right Diagnosis is the First Step toward Effective Treatment
Diagnostic details are essential to planning the best treatment for each patient. Specialists at our Center for Liver Diseases — including University of Chicago Medicine interventional radiologists — use an array of advanced diagnostic methods to find the cause of an individual's liver disorder and to determine the degree of severity. Sometimes we can address the problem during the diagnostic process, which helps patients avoid having to return to undergo multiple procedures.
If you are being tested for liver disease, your doctor will explain which tests and procedures you will undergo and why.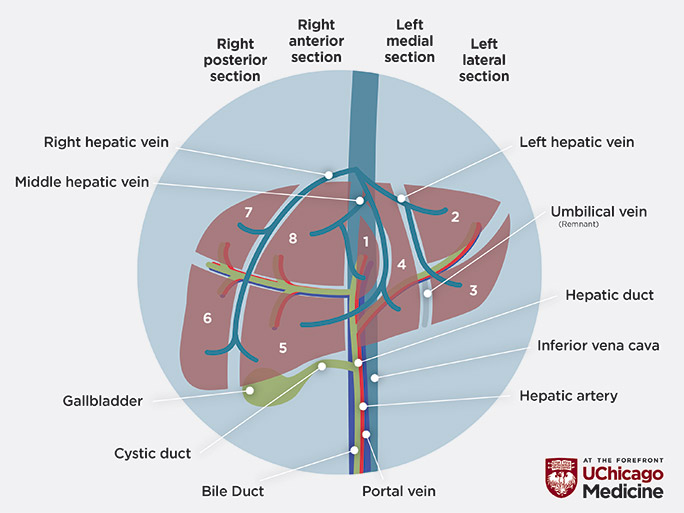 Interventional Diagnostic Tests
Liver Diseases & Transplant Q&A
What are the most common liver diseases affecting Americans? When do they lead to liver transplantation? What's life like after a liver transplant? We spoke with transplant experts Michael Charlton, MD, and Talia Baker, MD.
Patient Information
Your care and well-being are our primary concerns, and we want your stay to be as comfortable as possible.
See all patient resources
Second Opinions
Seeking the opinion of an expert can ease your mind and help you feel more secure in the medical decisions you are making.
Request a second opinion
Clinical Trials
Our research helps health care professionals around the world better treat diseases, conditions and disorders.
View all clinical trials
---
Health Library
Find patient education resources about medical conditions and treatments, including videos, quizzes and risk assessments.
Explore A-Z health topics
Classes & Events
We offer relevant classes, screenings and support groups to help you lead a healthier life.
See all classes and events
Gastroenterology Related Articles