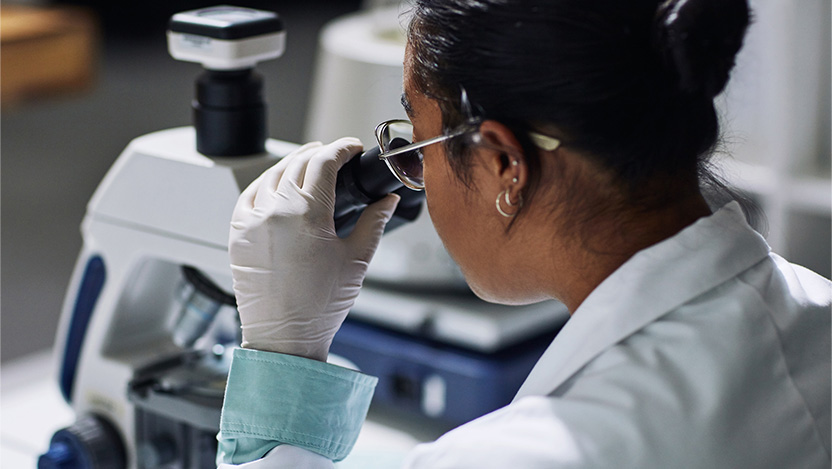 The University of Chicago Medicine Celiac Disease Center is leading the charge toward a cure for celiac disease. And we are closer than ever. Our world-renowned celiac disease experts are studying this complex autoimmune disorder from every angle to find new ways to understand, treat, and cure it.
Our experts conduct research on a variety of topics related to celiac disease in adults.
One study involves analyzing NIDDK T-cell assays. By thoroughly evaluating the immune response to gluten, we are looking to identify the cells in the small intestine and blood responsible for inflammation seen from celiac disease.
Our scientists are researching brain fog through fMRI and cognitive to test the mental impacts after gluten exposure for those with the disease.
We are also leading a longitudinal RC2 study on the healing nature of the small intestine following gluten exposure for people with celiac disease and are part of the IMGX NIAID (Solutions for Celiac) study (trial closed June 1, 2023).
Our pediatric celiac disease team is at the forefront of numerous studies for celiac disease in children. This includes research in areas such as:
Celiac antibodies, and determining which antibody is the best predictor for monitoring adherence to the gluten-free diet.
Gluten transfer from shared kitchen equipment to gluten-free food, and developing recommendations for celiac disease patients on how to avoid cross-contact with gluten.
Video capsule endoscopy (VCE), and evaluating the efficacy of VCE for the diagnosis of celiac disease in children.
A gluten exposure risk assessment questionnaire, and creating a standardized tool to be used in a variety of settings for patients with celiac disease and who are following a gluten-free diet.
A Celiac database, and collaborating with other celiac centers to examine features of our patient population and to greatly contribute to our current understanding of this disease.
The UChicago celiac disease and type 1 diabetes population, and determining how risk factors and outcomes for these diseases vary between racial groups.
The financial burden of a gluten-free diet, and defining the increased cost and psychosocial impact accrued by celiac patients and families treated with the diet.
Pediatric brain fog, and studying children recently diagnosed with celiac disease to monitor neurological impacts before and after a gluten-free diet.
Request an Appointment
The information you provide will enable us to assist you as efficiently as possible. A representative will contact you within one to two business days to help you schedule an appointment.
You can also make an appointment with our providers by:
– Requesting an online second opinion from our specialists
– Filling out an online questionnaire (e-visit) to get a same-day diagnosis and treatment for common conditions.
To speak to someone directly, please call 1-888-824-0200. If you have symptoms of an urgent nature, please call your doctor or go to the emergency room immediately.
Celiac Disease Related Articles