What is an ostomy bag and pouching system?
A pouching system collects output from an ileostomy or a colostomy bag. It protects the peristomal skin and provides security by keeping the bag sealed to the skin.
It consists of an odor-proof ostomy bag that collects and contains output from the stoma, and an adhesive (called a skin barrier) that attaches to the skin around the stoma. The skin barrier will protect the skin around the stoma and adhere the bag to the skin. The bottom of the bag has a tail, which can be opened to drain collected stool, but otherwise stays sealed with an integrated pouch closure.
The pouching system should be emptied when it is about one-third full, and changed every three to four days.
How does an ostomy bag work?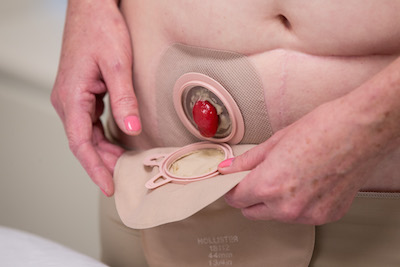 An opening is made in the skin barrier of the pouching system that matches the size and shape of the stoma. For example, if the stoma is round-shaped, the opening is round; if the stoma is oval-shaped, the opening is oval. When the skin barrier is applied it should fit to the skin stoma junction providing skin protection. As the stool drains from the stoma it will pass over the skin barrier into the ostomy bag and be contained until emptied. There are many types of pouching systems available. The ostomy nurse will help you find the best, most secure fit.
What is the difference between a one-piece and a two-piece ostomy bag pouching system?
There are two types of pouching systems: one-piece and two-piece. Each has unique features and benefits. You may decide to use both at different times, to suit your changing needs.
A one piece pouching system consists of an ostomy bag and the skin barrier. The skin barrier is attached to the bag as one piece.
A two-piece pouching system consists of an ostomy bag and a separate skin barrier, which features a flange or a landing zone. The bag can be attached and detached to the flange as needed. The skin barrier is placed on first and the bag snapped and/or attached to the skin barrier.
How do I choose an ostomy bag pouching system?
The ostomy nurses at the University of Chicago Medicine will help you choose an appropriate ostomy bag and pouching system. Factors to consider when selecting a pouching system include the type of stoma, your body shape, stoma construction, issues with concealment, activities of daily living and your preference.
An ostomy bag and pouching system should provide you with security— no leakage between the time you place on the pouching system and when you remove the pouching system as well as protection of the peristomal (around the stoma) skin. You should achieve a consistent wear time that should be approximately three to four days. If you are unable to achieve a consistent wear time you should check with the ostomy nurses for an evaluation of your pouching system.
Where should I purchase an ostomy bag pouching system?
Your health insurance usually determines where to purchase a pouching system. When discharged from the University of Chicago Medicine, you will have adequate supplies to use for the first two weeks at home. If you have home care nursing following your hospital discharge, he/she may provide you with the necessary supplies.
Nurses at the University of Chicago Medicine will provide a list of local and online ostomy bag suppliers that you can use. We recommend that you contact your insurance to see if they have a preferred provider for supplies.
It is important that you always have an adequate amount of ostomy bag products on hand in case of an emergency. Expect a delay between the time you order your ostomy supplies and when they arrive at your home.
Are ostomy bag pouching systems covered by health insurance?
Many private health insurance policies pay a percentage of the pouching system supplies, but this varies. Ask your insurance provider which of your expenses are covered.
Medicare pays 80 percent of allowable monthly expenses for pouching systems. The remaining 20 percent balance may be covered by supplemental insurance.
If your insurance requires that a health care provider sign for your ostomy bag supplies, provide them with the name of your outpatient ostomy nurse. In some instances, sending the approval to the surgeon may delay the delivery of supplies.
Understanding Ostomy Bags and Pouching Systems
We want to help you adjust to living with an ostomy. Below are several terms, definitions and pictures related to ostomy care.
Request an Appointment
The information you provide will enable us to assist you as efficiently as possible. A representative will contact you within one to two business days to help you schedule an appointment.
You can also make an appointment with our providers by:
– Scheduling a virtual video visit to see a provider from the comfort of your home
– Requesting an online second opinion from our specialists
To speak to someone directly, please call 1-888-824-0200. If you have symptoms of an urgent nature, please call your doctor or go to the emergency room immediately.