Preparing for your Ostomy Surgery
All patients that are scheduled to undergo ostomy should have an appointment with an ostomy nurse before the procedure. During this session, the nurse will review the surgical procedure and changes in the GI tract that occur after ostomy surgery; demonstrate how an ostomy pouching system works; discuss the skills you will need to adapt to living with an ostomy and mark a proposed stoma site.
Stoma Site Marking
The location of the stoma is a very important part of living with an ostomy. A stoma located in a flat area that can easily be seen will allow you to maintain a secure pouching system seal. If the stoma location is not visible, you may not be able to provide self-care, which can delay adjustment. Pre-operative stoma site marking is very important. The ostomy nurses can assess your abdomen and mark a site that will provide guidance to the surgeon when the stoma is created. Choosing and marking the stoma site will occur during your pre-operative visit.
In order to determine the best location for your stoma, the ostomy nurse will examine you sitting, laying, bending forward and standing. You will be assessed for creases or folds that could interfere with the pouching system seal. We try to find a two or three- inch area that remains flat in all positions (free from creases and folds) and that you can see. A plastic guide will be used to determine the best location for your stoma; once determined, the spot will be marked with a water resistant marker, covered with a transparent dressing. The stoma location can be marked up to four weeks before surgery. The covering will protect the mark, allowing you to shower without affecting the stoma site marking.
What happens during my pre-operative visit?
At University of Chicago Medicine, the process normally begins when the surgical team schedules your pre-operative visit. During your visit, the surgical team will carefully explain the procedure. You can ask any questions and discuss your concerns before reviewing and signing consent forms for the surgery.
In the same visit, your blood may be drawn for pre-operative labs. We may also have you scheduled a visit to the anesthesia department. You will receive information on how to prepare for the surgery and what time and where to come to the hospital for the surgery.
How long should I expect to stay in the hospital?
At UChicago Medicine, you can expect to recover from surgery in the hospital for approximately 5 days, though recovery time varies by patient.
How soon after ostomy surgery can I eat?
You may begin eating again once bowel activity resumes. This usually occurs within several hours to a day after surgery.
A resumption of bowel activity is indicated by the output of gas from your stoma and by watery or pasty stool in your pouch. At that point, you'll start with clear liquids. When liquids are tolerated, you'll switch to a low-residue diet. We usually recommend a low residue diet for several weeks after surgery because of the bowel edema (swelling). Once the edema has subsided, you should be able to eat most anything you would like.
Ostomy Care After Your Surgery
As you recover, one of the University of Chicago Medicine ostomy nurses will work with you to help you acquire the needed skills. By the time you leave the hospital, you will know how to empty your pouch and have a good idea of how to change your pouching system.
You'll go home with several pouching systems, accessory products and written ostomy care instructions. You'll also receive a list of qualified ostomy suppliers, guidelines for diet and the ostomy nurse contact information.
What follow-up care will I need after leaving the hospital?
You will have a follow-up appointment with the surgical team, including one of the ostomy nurses, approximately two weeks after leaving the hospital.
Ongoing appointments with the ostomy nurses are decided at the first follow-up appointment. You will have return appointments as need and you should see the ostomy nurse on a yearly basis. If you encounter any ostomy-related problems in the interim, you should make an appointment to see one of our ostomy nurses.
Will my stoma size and shape change after surgery?
After surgery, the opening in the skin barrier needs to be altered as the stoma size and shape changes. Our nurses recommend that the stoma be measured every two weeks for the first 6 weeks after surgery to determine when to change the skin barrier opening.
Will I receive nursing assistance at home?
While patients recover from surgery at University of Chicago Medicine, an ostomy nurse usually recommends nursing assistance at home. The home care nurse can continue ostomy education and provide all other health care.
What are common restrictions after ostomy surgery?
You will be advised not to do any heavy lifting after surgery, limiting lifting to less than 10 lbs. for up to 6 weeks. If you are on pain medication, you should not drive. Your care team may give you other restrictions, depending upon the type of surgery you have.
Why should I join a support group? What's the benefit?
A group may help you feel connected with others at a time when it's natural to feel isolated and vulnerable. Likewise, a group may help restore your self-esteem and self-confidence.
Groups offer practical support from others who have had similar surgery and know what you're going through from experience.
As you become more knowledgeable and skillful, you'll get an emotional lift from helping others who are not as far along.
United Ostomy Associations of America, Inc. (UOAA) is a nonprofit organization that supports, empowers, and advocates for people who have had or who will have ostomy or continent diversion surgery. Their website provides valuable information on living with a stoma as well as a list of local support groups.
Learn how you can join the University of Chicago Medicine Online Ostomy Support Group.
The University of Chicago IBD Center also holds a monthly support group for IBD patients.
Types of Ostomies with Pictures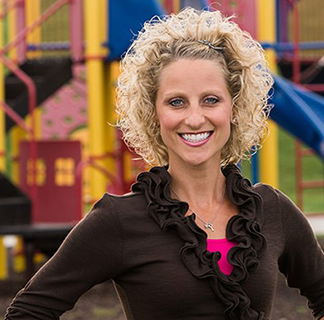 IBD experts help teacher with ulcerative colitis
Abbie Perkovich had been sidelined by inflammatory bowel disease. Her medications were no longer keeping the disease under control. Doctors thought her best option was to have her colon surgically removed.
Read Abbie's story
Request an Appointment
The information you provide will enable us to assist you as efficiently as possible. A representative will contact you within one to two business days to help you schedule an appointment.
You can also make an appointment with our providers by:
– Scheduling a virtual video visit to see a provider from the comfort of your home
– Requesting an online second opinion from our specialists
To speak to someone directly, please call 1-888-824-0200. If you have symptoms of an urgent nature, please call your doctor or go to the emergency room immediately.